Mental Health Emerges as a Theme in This Year's March Madness Projects
It is one of the most treasured traditions at the high school of Grace Church School. Often confused with an NCAA NBA tournament, it is in fact a right of passage that all tenth graders must undertake. A project that aims to help solidify who you are outside of being a student. This project is, of course, March Madness.
March Madness is a year-long, mandatory independent project for all sophomores. Mr. George Davison, Head of School, cites the March Madness project as an integral piece to his vision for the high school. He remarked in an interview for the Gazette last year that, given time and resources, it's "amazing what students are able to accomplish." Students are simply expected to select a project that "touch[es] on who [they] are as a person, and who [they] aspire to be." There are purposefully very few restrictions for the project, and students can even apply to use an allocated $300 to aid them in completing their projects. Students are also relieved of much of their course load for the entire month of March. The final projects are shared during a symposium where peers, faculty, and families are invited.
This year's symposium was relegated to a virtual setting, but this did nothing to hold back the creativity, passion, and deep sense of commitment that is necessary for March Madness success. Projects ranged from creating hand-drawn animations to coding video games, from writing short story books to building an engine, and filming a documentary to hand-making clothing.
Selina Piros '23 created a film centered around the "loneliness and nostalgia" in a "world recovering from a pandemic," a topic inspired by her own personal experiences during this past year. "I was inspired by the way that solitude can induce looking back at the past while also making someone looking towards the future." These ideas that Piros sought to comment on seemed to produce overarching themes that appeared in a large portion of the other tenth-grade female student projects: depression, anxiety, disordered eating, and body image.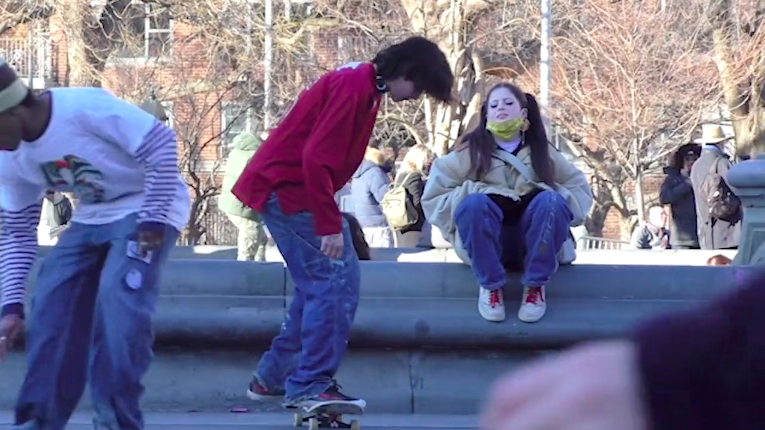 Bella Gore '23 and Willa Bradshaw '23 both created fictional characters to explore struggles like ADHD, anxiety, and depression. Bradshaw used her characters to create a short film and Gore composed short stories. Neither student struggles with any of these conditions, but are surrounded by friends and family who struggle with one or multiple of these issues daily. "My goal was to destigmatize talking about mental health," shared Gore. "I feel there are stigmas on both ends; normalizing [mental health struggles] too much and also people not wanting to talk about them."
Karis Braxton '23 centered the latter theme, body image, for her project. She created a book featuring photos of female students at Grace who have struggled to come to terms with their body image due to the toxic expectations that social media sets for young girls. "From the very beginning," she said in an interview, "I knew I wanted to do something with body image because of my own personal experience. The vulnerability part was the hardest thing. I knew that my project wouldn't reach its full potential if I wasn't honest with myself."
"…there are stigmas on both ends; normalizing [mental health struggles] too much and also people not wanting to talk about them."
Amani Agrawal '23 could have been part of Braxton's project as she spoke about how TikTok negatively influenced her body image over the summer, inspiring her art piece centered around the impacts of social media. "There was a lot of diet culture pushed on me through the app. I had a lot of time to think about things. I would find myself feeding into the videos and that conversation more than I liked to." Her final piece was part infographic, part drawing with splashes of color and sketches illustrating the emotions surrounding an eating disorder.
When asked what Grace might be able to do better to address the declining mental health of its students, many agreed that it wasn't an issue of what Grace offered. "The resources are there," Braxton remarked, "but the environment might not necessarily feel safe just yet."
"Students who take advantage of the support at Grace might be viewed as if there is something wrong with them," Gore added. Bradshaw echoed that there is an understanding that students won't go to the counselors unless "they're forced to." Agrawal continued that she feels the counselors at Grace feel "slanted towards dealing with depression and anxiety. Not so much eating disorders as those are sometimes excluded from the mental health discussion."
In response to these comments, Dean of Student Life, Ms. Ilana Laurence, wrote in an email that it's "helpful" to hear this feedback from students surrounding mental health and that "in light of the wide variety of challenges that every single one of us has faced over the past year, it's especially important for students to feel comfortable seeking help in whatever area they need…We have a wonderful counseling team at Grace with many collective years of experience guiding students through struggles with all of these important topics and more. It's my hope that the more we normalize talking about mental health, the less stigma there will be around seeking mental health support."
Ms. Beth Walker and Mr. Mel Chan, counselors at the high school, wrote in a joint comment that they "hope [they] have fostered an environment that makes [reaching out for help] a little easier for everyone. The stigma around mental health still exists despite [their] best efforts to normalize the conversation and reinforce how we handle privacy and confidentiality at Grace."
Ms. Walker and Mr. Chan also shared that they have helped numerous students over the past six years combat mental health issues, including eating disorders. Looking ahead, they hope to "[encourage] a sense of belonging both within the counseling office and the greater GCS community." They are both eager for more platforms to talk about any stigma that might exist at Grace.
While the counseling team is optimistic in their hopes of building a more supportive environment, the students are taking matters into their own hands. Many students interviewed believed that they would continue to advocate for the issues they have raised and that the skills they have learned will continue to be useful for years to come. "I learned a lot about myself and how I learn as well as how to focus on the bigger picture. That's information I want to carry with me for the rest of my life," assures Bradshaw.
Many female students proposed starting more clubs or affinity spaces centered around addressing mental health issues. "I would love to open up this body dysmorphia issue to the larger community and include more guys in the conversation. All of this ties into who we are as people, so it's important to address," Braxton stated.
Overall, these Grace students hoped that their March Madness projects would amplify the unheard voices and issues of students. Gore stated that she hopes her projects help those struggling "feel supported and seen."
2020-2021 marks yet another successful year for March Madness, and we can't wait to see what ideas or themes emerge next year.