Winter Sports in Full Swing
Nearly a month into the Winter Athletics Season, six teams are in full swing, working through preseason and already racking up wins. Winter is longest of the three sports season in high school sports, so read up below to see what your Grace Griffins have in store for the next three months.
JV Boys Basketball
The Junior Varsity Boys Basketball team, have strong goals and expectations for this season. With lots of new faces on the team this year, they are stronger, smarter, and have lots of fun. Coach Loverude said this about his expectations and goals for the upcoming season. "We want to win a bunch of games this season, and get to the playoffs again. We want to get to the semifinals, and eventually the finals, and win the league championships. The team has been working hard so far, and I have a lot of fun working with them. Having a gym on the 4th floor is great, as we don't waste time getting to Basketball City anymore. I also hope to see more students come and cheer us on at our games, as they only need to travel right upstairs!"
Varsity Boys Basketball
Varsity Boys Basketball is ready to redeem themselves from last years poor record. They are more focused, and with a lot of seniors on the team, have the drive to win a title. But the team is starting small, as Head Coach Quinn says, "he's taking it day by day." The recent Barclays game was the team's season debut, and they made a strong showing."
Coach Quinn said this about his goals for the season and what his thoughts are so far. "Right now my goal is for our team to get better every single day. I try not to look too far ahead, so we are preparing every day to get ready for our first game on Thursday. Some long-term goals that I have in mind is to make the ACIS playoffs, but honestly, I am focused on just playing well one day at a time. Our starting five are all returning players, so I am hoping the experience from playing a lot of minutes last year will help. I will rely heavily this year on our senior leadership. Will Simotas and Malcolm Gibson have been with me for four years, Nathan McCarthy has been with me for three years, so their leadership, and knowing what my expectations are, should help us play well consistently. The new gym also helps in so many different ways. It feels like home for our boys. The access after school and the accessibility between 12-2 will only help our program. We hope that it becomes the norm for students, faculty, and staff to come and watch as many home games as possible."
Varsity Girls Basketball
Varsity Girls Basketball is off to a strong start, and they are ready to take back their league and championship titles. With nine returning players, and eleven new ones, the team is looking better than ever.
The team's head coach, Ms. Armijos, said this about her expectations for the season and her thoughts on the team so far. "With nine returning players and many new faces, the team is looking stronger, faster, and bigger than ever. I have very high hopes for this season as I plan to be the top team in our league, win the state championships, and the ACIS Invitational. Also having a brand new gym in the 46 building is incredible, we save so much time during practice, not having to spend time traveling to Basketball City."
Fencing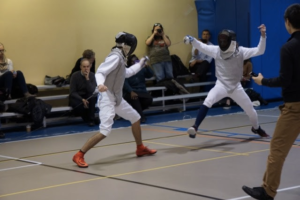 The Grace Fencing Team is poised to have a strong year with 11 returning fencers. No longer practicing in the cafeteria, the team goes to the nearby Health and Racquet club or University Settlement on Houston Street. Harry Mander '19 a team captain said, "We are an independent team so every tournament provides a new opportunity for us to win. We are going to compete in the Fencers Club tournament among others. We had one loss last year and we look to have a strong season." There first match is December 20th against Avenues in the new 46 gym.
Squash
The Squash team, lost a number of upperclassmen and only has three upperclassmen on the team, the remaining nine are underclassman giving the team time to develop over the three to four years. Jake Dewees '19 said, we are in a rebuilding year, last year's captains have graduated, but there are more freshman playing than we've had in a while so it will provide us with lots of room to grow." There first game is December 7th at Riverdale.
Swimming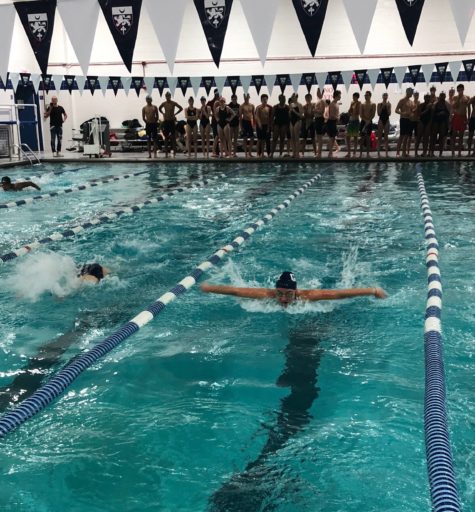 The swim team is looking to have a bounce-back year after a disappointing season. Returning member Kaitlyn Lu '20 said, "We hope to get a high ranking in the swimming championships last year we were 7th of 7th. I think this year we can improve to finish in 4th place. We lost two members from the team last year, but I think since there are eight new swimmers we will improve. There first meet took place on November 28th against all other ACIS teams.
Photos by Luke Morris '19, Sam Murphy '20, Jackson Sohn '20, and Mr. Nichols