The Unexpected Environmental Benefits Of COVID-19
Fear, worry, sickness, death, and economic hardship have all become a part of nearly everybody's daily routine in the wake of the worldwide COVID-19 outbreak. However, there has been an unexpected positive effect: the impact on the environment from the worldwide shutdown of almost all pollution-producing industries. In Venice, Italy, the waters have begun to clear up for the first time in decades, while in China, and many other countries, air pollution rates have begun to drop not just as businesses and factories close, but as people stay safe at home, not needing to commute to work. All of this has resulted in pollution rates dropping to a fraction of what they were before the outbreak. In India, side-by-side photos of monuments from 6 months ago show how drastic pollution has changed. In the past, there was a haze where you could barely see a building from 100 feet away, but now, the view is almost crystal clear. CNN analyst, Rebecca Wright stated, "Already, data shows that the main cities are recording much lower levels of harmful microscopic particulate matter known as PM 2.5, and of nitrogen dioxide, which is released by vehicles and power plants." Amid these discoveries, we have to ponder what we can do differently when the dust settles, and the world goes back to normal.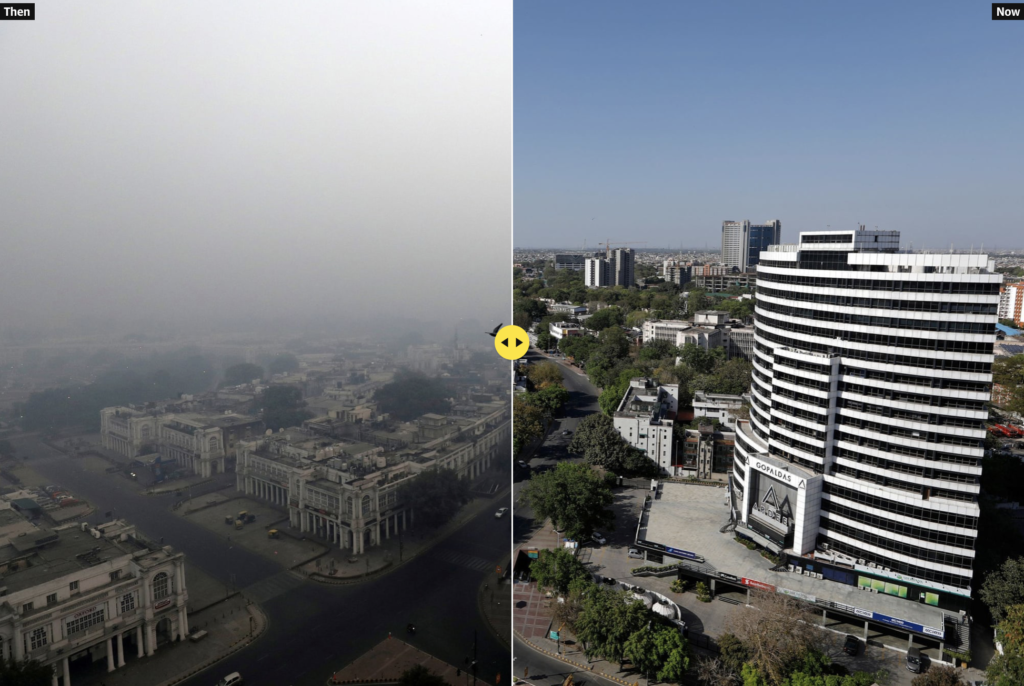 Grace Church School, along with the rest of the world, should try and take this time in quarantine to reflect on how we, as a result of coronavirus, only need so much and that if we embrace a more conservational and environmentalist mindset, we could help lower global pollution rates. Furthermore, seeing lighter footprint solutions that were implemented as a response to coronavirus, which has wound up working well and are worth continuing, could help teach us how we can implement changes in our lifestyles to help the ecosystem. Since the High School's opening in 2012, technology has been a big part of the school with students regularly using the online website GraceNet, digital textbooks, and more recently, Zoom. This use of technology, most obviously in the form of digital textbooks, has made the school more environmentally friendly by reducing the use of paper. However, what else can we do? When talking with science teacher and Dean of Community Life, Ms. Chaloner, about how the community could learn to rely only on the essentials, something we are forced to do now as a result of COVID-19, she stated that "we could learn a lot about "flattening a curve," and making choices for the public good that don't offer immediate rewards." She added, "when it comes to climate change, we have to make similar choices, where we aren't getting clear rewards for our actions, but we know that we are saving ecosystems, and therefore lives." The point seems clear: we need to be able to try and help people and nature without wanting anything in return; saving the ecosystem may be hard, but our response to COVID-19 should go beyond personal wants, preferences, and luxuries, and instead, look at how we could protect who and what is around us.
The High School's Science Olympiad Team had comments of their own concerning what we could learn from the COVID-19 outbreak, especially given the fact that the disease is indirectly lowering pollution rates worldwide. Captain of the Science Olympiad, Theo Usher '20, said he believes that once things begin to go back to normal, "I don't think much will change permanently except people will become more aware of the danger of pandemics. I think people will be too busy trying to get their lives back to normal – especially those who are economically impacted by the pandemic – to focus on change. I think the pandemic will end up having a bad effect on the environment, as people who have been economically impacted by the pandemic will be more focused on stabilizing their lives than on longer-term goals like fixing the environment."
Another member of the Science Olympiad, Zach Bernstein '21, believes that, beyond Grace, the world will do little to learn from the environmental effects of coronavirus: "Pollution from cars and planes which makes up a massive amount of the total pollution into our atmosphere has gone down significantly according to NASA and NOAA satellites. This is great for the environment in the short term, but it would take years to reverse any of the environmental effects from our pollution that there likely will not be any noticeable difference once we return to 'normal.'"
Regardless of coronavirus aiding the ecosystem, this does not take away from what we can do both individually and as a community. Grace prides itself on its environmental actions, and while that is to commendable, it does not change the fact that we as individuals need to take the initiative to learn from the coronavirus, both in terms of social distancing and disease prevention, and how we live in excess. Because we live on a planet with finite resources, we should not abuse the ecosystem around us. Instead, we should try and continue some of the practices put into place in the wake of COVID-19.