Sympathy Drain: Who is the Brains Behind the Play?
Frankie R. '22, brains behind the play. Media provided by Gazette Media Staff.
Frankie R. '22 has been acting in Grace Theater Company productions since his freshman year and, recently, he has used this experience as a tool to broaden his passion for theater and explore playwriting. He has been writing the winter play, Sympathy Drain, for the past year and a half and, with the play's premiere early last month, the Grace community was amazed by its relatability to the teenage experience and its brilliant script .
Sympathy Drain tells the story of five high school students who are thrown together for a group project. The play follows their process in completing the project in the midst of the class president campaign (the two frontrunners also happen to be two of the group members). It touches on many struggles teenagers face today such as self depreciation, self-perception, love, and power dynamics within friendships. The play resonated so deeply with students that many returned to see it more than once.
In addition to Frankie's incredible writing, he is also a hands-on, caring director that cast mates and crew felt lucky to work alongside. When asked about how Frankie contributed to rehearsals, Jasmeily A. '22, Co-Director, stated, "he made everyone feel comfortable with each other and it led to the cast and crew bonding and, honestly, that is all you can ever hope for in doing a play." She continued, "you can see that he was born to direct and be a screenwriter."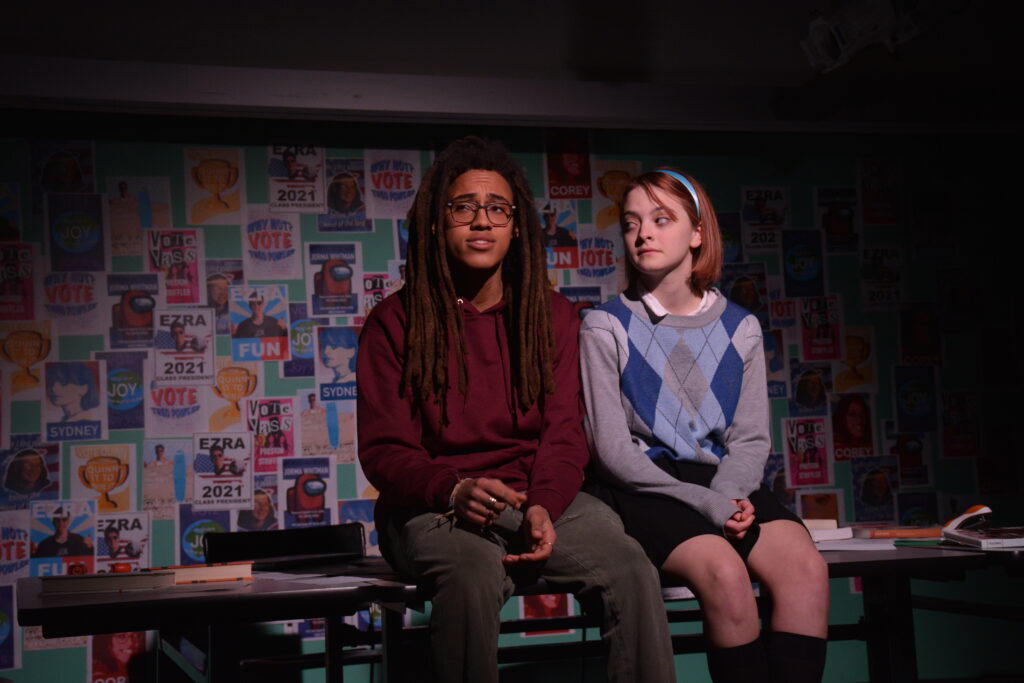 Perrin H. '22 and Selina P. '23 in "Sympathy Drain." Media provided by Ms. Elizabeth Segre-Lawrence.
Of his inspirations, Frankie said in an interview with the Gazette, "I gravitate to creative people who have unconventional ways of creating stories. Because, to me, it's more interesting when you watch a movie or you watch a play or you read something and you can feel that the characters are full people. And you're so invested in who they are and how they've been given to you as an audience member that you're not as concerned with what's going to happen next in the story. And it's natural and believable."
Dr. Goh, the artistic director of the Grace Theater Company and the head of the Drama Department, stated, "Frankie's best quality as a director is his attention to detail. He is an actors' director and focuses on guiding his performers to bring out the best in their portrayals. He lays the groundwork methodically to prime his performers for success in their process."
Frankie is always committed to making the actors feel just as part of the process as he is. When asked what his aim was in creating Sympathy Drain, Frankie replied, "my biggest hope was to be able to, as a director and as a playwright, come in with this thing and say all right, over the next six weeks, this is going to go from me to you…..I will slowly give it to you and you will have your own ideas and it will change…And that was my biggest wish was that it would be a fully collaborative experience with the other actors and with the crew."
In demonstrating this level of playwriting prowess in high school, we have yet to witness the extent of Frankie's talent and extraordinary vision.