Students Work In Art Exhibit on Show at BRIC
On Saturday, October 24, Aki Davis 19', Alec Judelson 19' and Will Simotas 19' all woke up reported to school by 9 am sharp. Only today they were not there for academia. These three students came to help a local artist, Rose Nestler, film a video for her most recent art project, "Gymnasia," in the new high school gym. Gymnasia has been at the BRIC, a museum in Fort Greene Brooklyn on show for the last few months and will be closing on January 20.
According to BRIC's website, "Gymnasia presents an investigation into the correlation between athleticism, spirituality, gender and power through illustrating sports, ceremonies, and rewards that sustain the oppressive regime of toxic masculinity within American culture."
The exhibit features Nestler oversized Greek "pottery" and two videos. One shot on an Island off the coast of Long Island and the other shot in the gym. The video that the students at Grace helped out on features several aspects of ancient Greek entertainment: wrestlers, dancers, and a Greek chorus.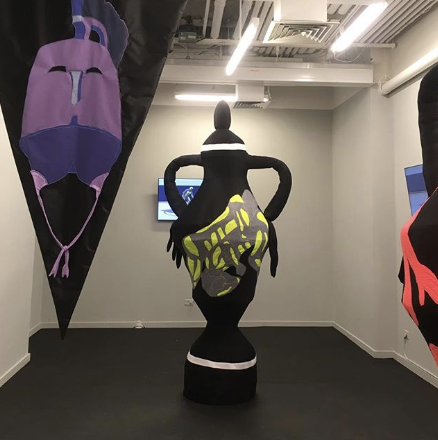 Aki and Alec both assisted Rose Nestler on the work assembling the giant "Pottery". The Pottery was about 9 feet tall and was made from a wooden frame and wrapped with fabric that Rose made. Nestler asked Alec and Aki to get very hands-on and even had them sow some of the fabrics when they were assembling and wrapping the pottery in the gym.
Will Simotas was the camera assistant to the videographer, Robin Stein. Will helped Stein set up all the technical aspects of the camera, a Canon C300, as well as help figure out what camera angles would be the most effective way to convey Nestler's message.
The film was shot in several parts. First, the students shot the wrestlers. Then, they shot the dancers, followed by the Greek chorus. Finally, the Giant Pottery was brought in and the entire cast assembled in the last shots.
The video was edited by Nestler and is now on display in the Project Room of the BRIC along with the Giant Pottery and another video Nestler made.