Seniors Spike Senior Night
On Tuesday, October 22, Girls Varsity Volleyball had their Senior Night. They played Brooklyn Friends in their final match of the season, and despite losing 0-3, the team played incredibly well, all three games were close, and everyone could tell that the bond between these girls was special.
I spoke with Brett Borthwick '20 and Ava Andrews '22, who are both in their first year on the varsity team, and they shared some thoughts about the seniors. Brett said, "Senior leadership has helped the team immensely, especially since, for a bunch of us, it's our first time on varsity. The seniors have been mentors for all of us on the court. Since there were five seniors this year, I think everyone had someone who had played their position before that they could look up to and ask for advice from. Of course we will miss them next year, not only for their skills on the court but also the character they add to the team."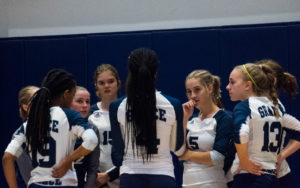 One could tell that the seniors meant a lot to the team and were great role models for the younger players. According to Ava, "Julie encourages us no matter what, Katherine calls us all queens until we feel like queens, Soleil will keep fighting for us always, Eden always is there for a hug or an emergency lip balm, and Kayla is so dedicated to the game it inspires all of us." Even for the younger members of the team, the friendship between all the girls is truly valued on this team.
I also interviewed some of the seniors on the team and they reflected on their time on the team. In an interview with Julie Morse '19, she said, "I've been on varsity for three years. Most of my good memories are because of the people I play with and how much I love them. We always support one other and I truly feel like, especially this year, the team was a family. My favorite memories are when we push through as a team and bring out the best in each other, particularly in tough games when we go to five sets and manage to come out on top. I'm going to miss everyone so much and miss challenging myself to be a better athlete and teammate."
Katherine Ely '19 has played volleyball for four years at Grace, two on varsity. She also reflected on her past years on the team. "My favorite memory was last year when we played Friends Seminary and we ended up going to five sets, and the score went back and forth after each point which lead us to play overtime. I am going to miss the people because I've made some great friends over the years that maybe I wouldn't have known as well, and I'm definitely going to miss playing volleyball competitively."
Kayla Diaz '19, the captain of Girls Varsity Volleyball, has been on Varsity since sophomore year said, "I think some of my best memories were the bus rides to and from our away games. We'd always make jokes and laugh and get to know one another better. I'm going to miss getting psyched to go to practice after school and learning with all my teammates."