Schuyler Bailar Speech: "Identity does not have to rob you of your passions."
During Chapel on Thursday, October 17, the Grace Church community had the pleasure of hearing from the first openly transgender NCAA Division 1 swimmer: Schuyler Bailar. Beginning his chapel talk, Bailar spoke of his childhood, his relationship with his family, his early love for swimming and skateboarding while portraying himself as a female. Focusing his speech, Bailar then spoke of his social struggles while in school. From a young age, his demeanor represented that of a tomboy; he wore men's clothing, his hair was kept short, he played with boys as well as acted like them, and because of that, he fell victim to the terrorization of bullies. Bailar went on to say, "I was even thrown out of the girl's bathroom on account of looking like a boy and would find comfort in the single-stall bathrooms that were designated for teachers only. I found that I would rather get in trouble for using the teacher's bathroom than have to face the ridicule of the gender in which I identified with at the time." To cope with the struggles of self-identification at school, Bailar decided he would conform to the feminine stereotype to prevent further persecution for the way he presented himself. "I grew out my hair, started wearing makeup and bought clothing that pronounced my femininity." While Bailar was trying to fit the stereotype of what being a woman meant, he was also beginning to gain a reputation as a swimmer for the girl's team. It wasn't far into his high school career that the Ivy League colleges began taking an interest in him. His fantastic swim times only matched by his grades in school, landed him a spot on the NCAA D1 women's swim team at Harvard University. Although he was no longer being bullied and had been recruited by Harvard, there was still a sense of affliction and inner conflict.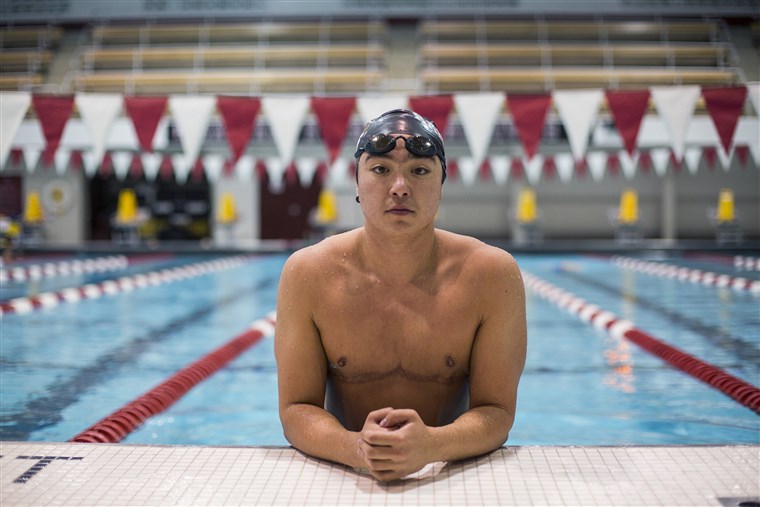 It was then during his chapel talk that Bailar enunciated the words, "why does it matter that I'm miserable?" Allowing the words to linger for the Grace community to reflect on, Bailar then shifted his presentation toward the events leading up to his transition. Suffering a broken back, Bailar stopped all swimming for three months. He had never consecutively stopped swimming for more than a couple weeks and now lacked the one activity in his life that distracted him from the inner turmoil he was facing every day. From his inactivity, he developed severe mental illness resulting in an eating disorder that required professional attention. It was at the Miami Oliver-Pyatt Center for eating disorders that Bailar found the help he needed. "I decided to take a gap year in order to get better, and for five months, I slowed down and stopped to think about my self and the reasons behind my mental illness. It was then that I was finally able to say that I was transgender. It explained everything," Bailar stated. While being able to come out as transgender was one of the definitive solutions to Bailar's mental health problems, there were still areas that even now he must work through to keep on track with self-care. "For a lot of trans people, transition is the cure; you transition and all your problems go away. But also for many the damage that was done, mental health-wise, can be a lot and you still have to work through that after transition. For me, the eating disorder treatment was crucial in helping me manage my symptomatology, but I still had to work through other mental health issues. To this day, I continue to go to therapy, which is a really important way for me to keep in touch with myself, although I am nowhere near where I was before treatment," Bailar explained. 
Once Bailar came out as transgender, another obstacle presented itself. He had been recruited for the women's swim team at Harvard, yet he now presented himself as a man. Bailar had weekly phone calls with his Harvard coach, where he would update her on his mental health progress, and it wasn't until he began identifying as a man that those phone calls became an area of distress. "If I tell [my Harvard coach] that I'm a transgender, I could lose my swim team and Harvard–do I want to take that risk?" Bailar asked himself over and over again, awaiting the call from his coach. Bailar decided that he must be true to himself, and when it came time for the phone call, he stated clearly that he was transgender, but he still wanted to swim for Harvard.  Although he believed that telling his Harvard coach was the right step, especially since he had come so far in his journey, it presented another issue. "I believed that I could be a woman on the swim team and a man in the world," Bailar stated. His coach had another idea, and after talking to the men's swim coach at Harvard, Bailar was offered a spot on the men's swimming team. Although this step would allow Bailar to present himself as a man in every aspect of his life, he was still unsure if he wanted to switch teams, saying "I had been swimming since I was one year old and had dedicated twenty hours of the week towards the sport since I could remember. If I joined the men's team, it would be throwing away all of the achievements and fame I had received while swimming as a woman. I was not ready to give that all up." After his transition, Bailar underwent a mastectomy and consequently decided to meet with the men's team captains to feel out what it would be like on the team. To Bailar's surprise, both the men's coach and the team were very accepting of him. Bailar laughingly told his audience that the men's team captains said: "we will just tell everyone that you were bitten by a shark, and that's why you have the scar on your chest!" It was then that Bailar decided to join the Harvard men's swim team, in which he bested several of his records as well as finished his senior year as the third-fastest swimmer for the 100-meter breaststroke on the Harvard 2018-19 team.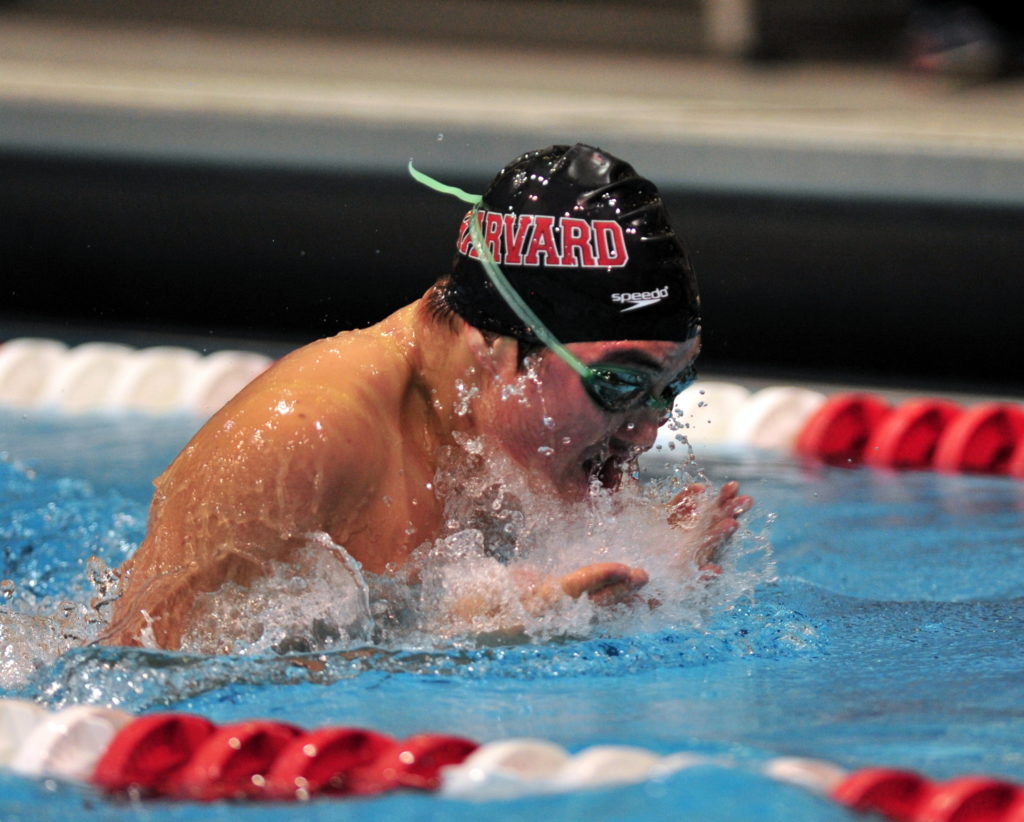 During a one on one interview with Bailar, it was discovered that after graduating from Harvard, he decided to tour the country going from school to school to share his unique and inspirational life story. "I've been giving speeches my whole college career, I actually did a hundred and four speeches before I graduated, so I was quite busy in college, in addition to swimming, having a social life and school," Bailar said. While Bailar was still in college, there was a high demand, spread by word of mouth, for him to present his experiences in schools. After graduation, Bailar and his family decided to tour the country in order to share his story as a way to spread awareness for LGBTQ in sports.
Since September, Bailar has been traveling around the country, speaking at schools in order to share with the youth about his life as a transgender man as well as what it means to be transgender. "The biggest reason I do what I do is to share the possibility of being able to be yourself, whatever that means to you; doesn't necessarily have to be trans, queer, gay, any kind of LGBTQ, could be anything that means something different. I also want to spread the idea of doing what you love, that identity does not ever have to rob you of your passions," Bailar commented. As he travels around the country, Bailar attempts to educate the public on being transgender as well as the language and vocabulary that comes with being trans and LGBTQ. He also wants to educate students about diversity and inclusion in both sports and schools as well as trying to normalize the idea of identifying as a non-cisgender person. "As a kid, I never had representation. I didn't see any other trans people in sports. I didn't even know that transgender people existed and I concluded because of that I wasn't allowed to exist in sports as myself. I was going to have to choose between being myself as an athlete and as being myself as a man. I came to realize that I didn't have to choose; I can do both, and I want to show people that that is possible. I want people to be able to google trans swimmers and have something come up. It's really about giving kids that person to look to and have them be able to say I can exist too," Bailar added.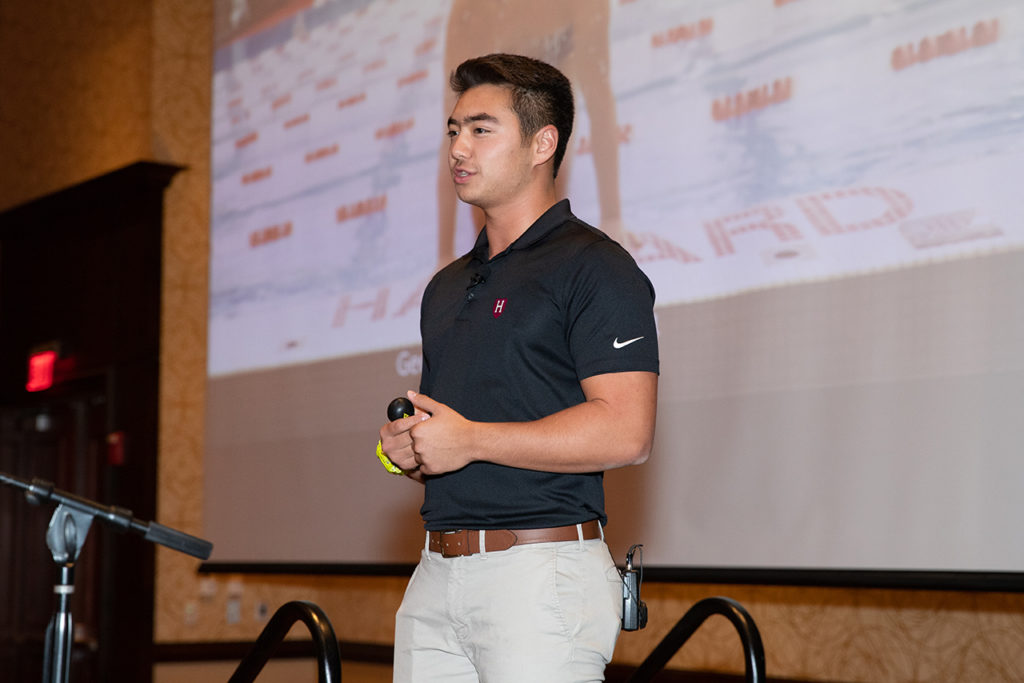 While on tour, Bailar has presented in an array of both liberal and conservative states. Although LGBTQ awareness and acceptance in some schools is not always as common as in the more progressive areas, Bailar wishes to demolish the stereotypes and prejudice against LGBTQ and utilize his time at specific schools to redirect the narrative. With patience for every audience, Bailar commented that "while most audiences are wonderful because the kids are excited to learn, there are those who resist. There have been a couple of schools that have been difficult for me to present in because a handful of the students will laugh and make fun of me while I'm on stage. The reason they are making fun of me is because they don't see me as a man, and they are seeing the girlie pictures of me, and it makes them laugh, making it hard for me to stand up there." Throughout his presentations, Bailar has created a method that targets those who do not take his presentation seriously. "I sweep the audience in my viewing rounds, and I make sure to always go back to them [the people who are making fun of Bailar], and I stare directly at them and talk to them. After that, most people won't continue laughing in those moments because they are too afraid," Bailar continued. 
With the conclusion of his tour, Bailar will begin to turn his focus toward activism for LGBTQ in other communities to broaden his outreach. His first stop, post-tour, will be in Switzerland for an athletic diversity and inclusion conference for trans athletes. When he returns from Switzerland, Bailar will be starting a job in Seattle, where he will be teaching emotional intelligence skills to employees at a financial services company, meaning he will be educating workers on effective communication as well as positive psychology and difficult conversation skills. "The job has to do a lot with what I cover in my speeches, just not tailored towards specifically LGBTQ inclusion. Instead, I will be focusing on people engaging well with others." Bailar continued, "I studied psychology at Harvard, and I focused on social, emotional learning, which is what I'm interested in." Looking toward the future, Bailar plans to go back to school to receive his Ph.D. in psychology.
It was an eye-opening experience to hear Schuyler Bailar's story, his charm captivated the entire Grace community, leaving everyone with a newfound sense of understanding and appreciation. Athletic diversity and inclusion are not often discussed in-depth at school, as the focus is usually on acceptance in the classroom. Yet, Bailar was able to eloquently bring his story to the forefront of our conversation at Grace. Hearing the struggles he faced while portraying himself as a woman showed a side of the narrative that is not widely spoken about. With the use of pictures and videos, Bailar effortlessly conveyed his personal story to his audience. While most chapel talks are spoken about a couple of hours after they are given, Bailar's presentation was discussed among many Grace students and faculty for days to follow. With Grace's new Student Life Agreement, the intolerance for exclusivity–be it in the form of racism, sexism or homophobia–has been an important topic of the new school year. Bailar reaffirmed the necessity of inclusion of all persons as he spoke about acceptance and valuing our differences. As Grace Church School continues to develop, it is important that we actualize Bailar's talk by celebrating our differences and striving, always, for diversity and inclusion. It was indeed a pleasure to have Bailar speak at Grace Church.