REVIEW — Spider-Man: Into The Spider-Verse
"Enter a universe where more than one wears the mask." From directors Peter Ramsey, Robert Persichetti Jr. and Rodney Rothman; writer/producer Phil Lord; and additional producers Chris Miller, Avi Arad, Amy Pascal, and Christina Steinberg comes "Spider-Man: Into The Spider-Verse" (2018), the first superhero film to have an African-American lead as Spider-Man. Taking place in an alternate universe, Brooklyn teenager Miles Morales (Shameik Moore) is bitten by a radioactive spider, resulting in his suddenly developing mysterious powers that transform him into Spider-Man. When he soon meets Peter Parker (Jake Johnson), the Spider-Man we are all familiar with, Miles realizes that he may not be the only Spider-Man anymore and that there are other heroes who wear the Spider-stylized mask, all with their own crazy abilities. Miles must now learn to use his newfound talents to battle the evil Kingpin (Liev Schreiber), a hulking crime boss capable of opening portals to other dimensions.
Back on December 9, 2017, the first teaser trailer for "Spider-Man: Into The Spider-Verse" (2018) was released, and since then, I knew that this movie, no matter how good or bad it may be, was going to change the world of animation forever. It's with a sigh of relief that I can say that Sony Pictures Entertainment and Columbia Pictures have created one of the most enjoyable superhero films of the year, and maybe the most revolutionary animated film of the decade.
The visuals of this film are by far the most impressive aspect, with each frame beautifully composed to resemble that of a comic page. The Spider-Man based characters are also all distinctive and dependent on their original universes. For instance, Spider-Man Noir, voiced by Nicolas Cage, is from a 1930s-style universe, and as a result, the character is animated in a black-and-white format. Spider-Ham, voiced by John Mulaney, is designed and utilized as a more "Looney Toons" type character and so is more absurd and less obeying of the laws of physics. Directors Peter Ramsey, Robert Persichetti Jr. and Rodney Rothman all have done an incredible job making this film an instant classic, a diverse and unconventional Spider-Man film where these alternate universes collide, and as a result, some characters don't quite fit in, expressed visually through the different iterations of Spider-Man animated and designed in a way relating to their characters backstory.  
In addition to the stellar animation, the voice work is absolutely masterful. Shameik Moore, who plays Miles Morales, has heretofore only had smaller roles and the producers were right to give him the opportunity to voice the lead, as he is outstanding, bringing charisma and heart to the role. Jake Johnson, who plays the Spider-Man we all know and love, is amazing, especially in the mentor-type role he plays towards Miles Morales. Hailee Steinfeld is great as Spider-Gwen and without a doubt provides one of the most enjoyable characters in the film. I strongly believe the funniest performances come from Nicolas Cage as Spider-Man Noir; Kimiko Glenn as Peni Parker; and John Mulaney as Spider-Ham. They are all hilarious and add an extra sense of humor to the universe in which the film takes place. The supporting cast is also pretty fantastic, including Academy Award-Winner Mahershala Ali as Miles' uncle Aaron Davis; Brian Tyree Henry as Miles' father, Jefferson Davis; and Liev Schreiber as Wilson Fisk, aka the Kingpin. In summary, the diverse cast, not only ethnically, but also narratively, makes for such lovable characters, accelerating the film to new heights.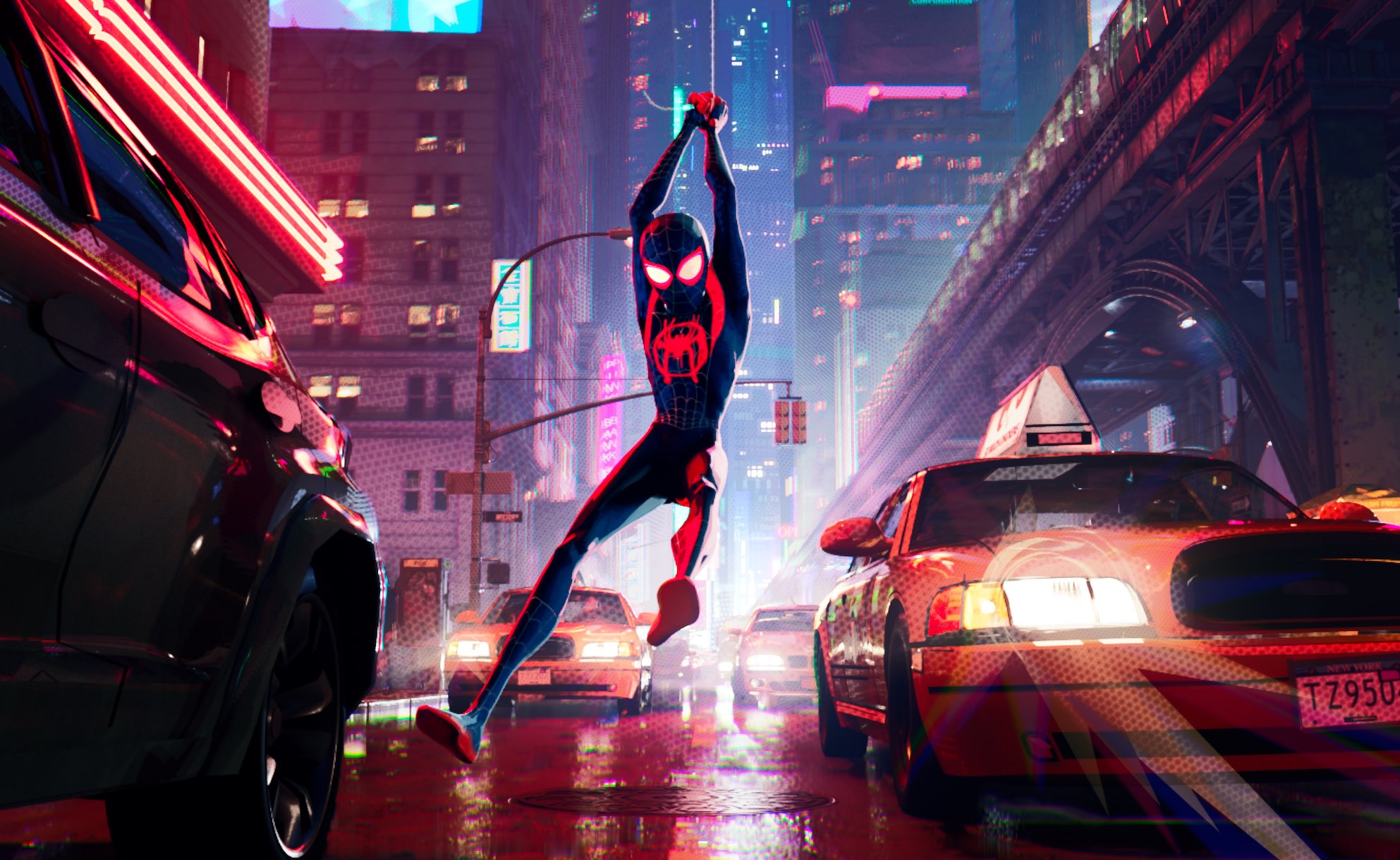 The main problem I had with "Spider-Man: Into The Spider-Verse" (2018) was with the story itself, specifically, the way the film depicts Peter Parker's training of Miles Morales to become Spider-Man. The bulk of the story takes place in the course of under a week. In that time-span, Miles gets his abilities, learns how to use them to a near perfect status, and is able to take down villains that the "normal" Spider-Man can't. If you ask me, Miles is able to learn a little too fast, a problem I associate with the script. Now he does fail at times, but he succeeds too quickly. Since the film establishes how there is a set amount of time before a multi-universe ending event occurs, I can understand that Miles needs to get into gear quickly, but a week is just not enough time. However, this issue does not make me hate the film, but I found it to be a sizable annoyance.
Excluding the subtle issues with the script, "Spider-Man: Into The Spider-Verse" (2018) is a masterful film, one with revolutionary animation, exceptional voice-work and unforgettable action scenes. I highly recommend this film as it deserves to be awarded the honor of being the best animated feature of the year. My ranking for this exceptional action set piece comes down to a 91%. Bravo Phil Lord, Chris Miller, and Sony Pictures Entertainment! "Spider-Man: Into The Spider-Verse" (2018) is a great movie for families across the world to enjoy during the holidays.