Puppets in Protest: How MLK Day is Changing at GCS
Since the high school division opened in 2012, the dynamic of the entire school has naturally changed. Beyond the more noticeable shifts that the high school has caused, such as a less stressful eighth grade application process and more coveted gym space, the addition of a new division has broadened the focus of our community by forcing us to create appropriate programing and curricula for an entirely new age range. This shift in focus, although favorable for many reasons, has affected the pre-existing GCS community and its traditions. In fact, a motto that Grace uses stresses that we are "grounded in tradition," yet "open to innovation." A natural product of Grace's extension to a JK-12 program from JK-8 is a delicate balance between maintaining tradition and creating space for new ideas. The challenge of maintaining this balance became apparent while planning this year's observance of Martin Luther King Jr. Day.
About 16 years ago, the GCS tradition of the all-school MLK Peace March began as an echo of the peaceful protest that Dr. King himself was known for. A few years later, the celebration of the holiday was extended to include a dedicated chapel, and a few years after that, the tradition of the puppets began.
The puppets are a familiar sight to members of the Grace community who have attended the MLK peace marches before this year and are hard to miss.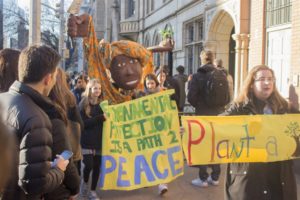 The design of the puppets originated from similar works done by the Bread and Puppet Theater that is known for its politically charged performances. At Grace, puppets have been made to represent figures such as Malala, Gandhi, Rosa Parks and, of course, the original representation of MLK. For over a decade, the tradition of puppets has developed in the middle school. Every year, students in the fourth grade study a certain figure that represents social justice and construct a representation of them with papier-mâché. According to Dr. Ali, Chief Technology Officer and member of the Diversity Council, who worked at GCS when the puppets were implemented into our celebration, the puppets were used to create a physical manifestation of the ideals and people they were trying to understand and imitate, "We were able to bring different struggles from around the world to life."
The process of selecting which figure to represent each year is based on a decision made by an MLK Day planning committee, to which all faculty members are invited. The main factor to be considered is whether or not the figure in question represents peace. According to Dr. Ali, Malcolm X and Nelson Mandela were once considered, but because of their connections to violent protest, even despite their integral work they did to further civil rights around the world, the committee decided not to select them as the subjects of that year. "We really have to think about 'What is the impression that's going to be created?'" Of course, the fact that they were not chosen is not specific to their character, but more related to their connotations with peace.
This year, puppets were noticeably missing from our observances, other than the original depiction of Dr. King himself, which was displayed during the chapel dedicated to Dr. King later that day. This decision was made by the MLK Day planning committee when developing the curriculum and structure of this year's celebration. According to Dr. Ali, the decision not to use the puppets stemmed from a "disconnect" between the initial intention of the puppets and how their message was actually received by some members of the GCS community. One explanation for this disconnect could be the issue of representation. Considering the fact that the puppets generally depict people of color and that the majority of the student body is white, it is not a stretch to raise the question of who is allowed to represent and depict the struggles and successes endured by the leaders we have chosen as well as the members of our communities who relate to those experiences.
To further understand the issue of representation, I spoke to Dr. Nathan, who teaches a course on African American History and is also a member of the MLK Day planning committee. According to Dr. Nathan, "It can matter who is doing the representing; that can shape how people are receiving and interpreting the representation." He also pointed out that, "Any time a person is representing something outside of themselves, they should be prepared for the possibility that it is heard differently than they thought it was said." This point is extremely relevant to the discussion of the puppets. The continuing discussion that is happening at Grace about programming of MLK Day seems to indicate that our community has a degree of self-awareness. This awareness is key to making positive and inclusive change at GCS that would allow all opinions, even those that break generations of tradition, to affect change.
Dr. Nathan added, "A puppet or a biography is a level of historical inquiry that may be appropriate for younger students, but high school students can handle more things." It was this sort of thinking that encouraged, and continues to encourage, the development of the high school's MLK symposiums, led by students, faculty,and alumni. At the grade school campus, the figures depicted by the puppets are integrated into the curriculum of the time leading up to Martin Luther King Jr. Day. Dr. Nathan pointed out that high school students are more equipped to handle broader subjects, and are therefore less attached to the idea of the puppets in the march and do not experience the same connection that members of the 86 campus might. "I felt that learning about a historical figure was something that high school students could push past." Although learning historical facts is important, Dr. Nathan argues here that high school students are ready to use those facts to participate in more complex discussions of social justice within our society.
Ms. Chaloner, Dean of Community Life and a GCS parent, has participated in the Grace community on both campuses. From her perspective, the puppets served as a way to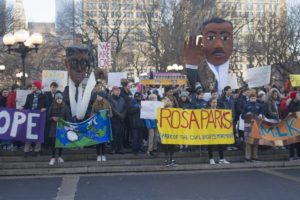 celebrate those who "had a vision for society that was more expansive than the society they lived in" as well as an opportunity to "refresh our commitment" to the movements they represent in relation to our own lives. According to her, without the puppets we risk losing a "concrete representation" of the civil rights leaders that we celebrate on MLK Day. This loss, according to Ms. Chaloner, would mostly be felt by younger students who, in the past, had understood these leaders through the construction and study of the puppets.
Ms. Wood, another member of the MLK Day planning committee and literature teacher, agrees with part of Ms. Chaloner's point, stating that the "concrete" and "visual" learning that the puppets lend themselves to are more appropriate to encourage engagement for younger kids in issues of social justice. However, Ms. Wood also echoed part of Dr. Nathan's point when she added that while the puppets might be useful for younger kids to focus their attention on a certain figure or set of values, restricting the scope to just that single figure or set of values might not fill the potential for high school level inquiry or discussion. Through the development of the high school's MLK symposiums and workshops, for example, older students are presented with more independent learning and development opportunities.
However, Ms. Wood had a differing opinion about why puppets are not the most appropriate way to celebrate civil rights activists. "I don't think it's a matter of art or representation. It's a matter of sensitivity to some of our population of students." She draws this from her own experience as a student of color growing up in independent schools. "I think that if I had been a kid here, I would have felt uncomfortable to see puppets that were of people of color, and as an adult I had a similar discomfort." Considering the fact that the initial purpose of these puppets was to educate and promote messages of equality and peace, Ms. Wood's reaction of discomfort is troubling. If the original intent of the puppets was to educate about social justice, the fact that they have been received in a way that offends members our community, specifically students or teachers of color, should spark conversation and change around what the puppets mean to GCS.
Ms. Wood considers the change we are experiencing a necessary step to maintain our commitment to social justice as a community. "Social justice requires vigilance and discomfort and a constant reexamination of how we're living in the world, and I think applying those principals to the program we are trying to create is what prompted the change." With this concept in mind, the lack of the puppets in this year's march represents a broader commitment to the ideals that figures such as Martin Luther King Jr., Ghandi, or Malala have fought for. By continuously reexamining our observances, we demonstrate our commitment to constantly improving the way our community defines social justice. However, it is also important to consider what we might lose in terms of helping younger kids understand the movements these puppets represent. Ms. Chaloner suggests that, if the puppets no longer serve their intended purpose in our community, other tangible and creative representations of civil rights activism could take their place. If the puppets have somehow missed their mark, perhaps as a community we could find another form of concrete media that relays the themes of activism that were intended to accompany the puppets when the tradition began.
As the MLK Day planning committee prepares to lay the groundwork for the 2019 observance, it is yet unclear whether or not the puppets will make an appearance in Union Square. However, the debate over the function of the puppets seems to be just a symptom to a greater issue at GCS. As Dr. Nathan put it, this issue, "Is part of the growing pains of adding a high school to a school that has built a tradition and an identity for generations." Dr. Ali agreed, pointing out a, "Dichotomy that creates differences of views and differences of opinions." There is no doubt that the high school has, overall, been a positive addition to the identity of Grace, but, as has become apparent in the changes in MLK programming, the unification of the experiences at both campuses is a much more daunting task than was, perhaps, initially expected.