Newest Faculty Members at the High School
The start of the 2019-2020 school year came with the addition of multiple new members to the faculty of Grace Church School. The Grace Gazette caught up with a few of those new members of our community to learn more about them and see how they are enjoying Grace.
Shahara Ahmed joined Ms. Campbell as part of the admission team as a new Admissions Associate, replacing Mr. Loverude, who is now the Director of the Writing Center. In an interview with the Grace Gazette, Ms. Ahmed spoke about her experience prior to joining our community. She did community outreach work for the New York City Department of Education's Pre-K Outreach Team. Those of you who are members of the Student Ambassadors Club should expect to see her positivity shine through as you work to become the best possible tour guides and representation of the GCS community. When asked about her prior teaching, she told us, "It's been a while since I last taught, but I'd like to think my teaching style invites laughter, curiosity, and joy." Not only does she seem to be enthusiastic about her teaching style but also about her new position. Ms. Ahmed has been learning something new every day as she continues to meet new people here at Grace. If you have a chance to stop by her office and start a conversation with her, hopefully, you will learn about her fun fact: she has been writing and performing spoken word pieces since she was twelve years old!


As the only Mandarin teacher at the high school, Cindy Chien is able to incorporate her strict but enjoyable teaching style throughout the Mandarin levels. Having only been a member of the GCS community for a few weeks now, Ms. Chien is already feeling very welcomed in both her classroom and around the school. She told the Grace Gazette, "I like Grace a lot so far because people are so nice and friendly here. Many teachers approached me and talked to me actively… As for students, they are kind to each other and very proactive and engaged in class." While Ms. Chien worked at Packer for eight years and Avenues for four years, her most recent teaching experience was at Dalton last year. Jasper Yang, a current student of Ms. Chien, finds her class to be intense but constantly entertaining. Ms. Chien loves making crazy stories by using new vocabulary and grammar patterns to keep the class interesting. If you want to experience Ms. Chien's humor, you can check out her YouTube channel. The majority of her audience speaks Chinese, but if you are not very confident in the language, many of the videos have English subtitles. It talks about travel, cooking, and just about anything you can find around America. If you are not interested in YouTube, you will be sure to learn about these topics in her class.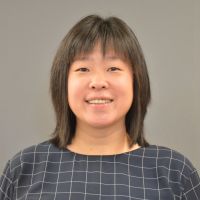 With Spanish as one of the most popular foreign languages to be taken at Grace, it was essential that Marcela Goglio joined the language department full time. Ms. Goglio comes from Buenos Aires, Argentina, and teaches Spanish levels 2, 3, 4, and 6. Ms. Goglio has been teaching at Grace for the past couple of years, but not as a full-time teacher, as she also works as a professor in the Department of Interdisciplinary Studies at John Jay College. Ms. Goglio has worked with Film at Lincoln Center as a Spanish/Latin American film curator, as well as having taught art in the educational program. She was also a language editor and translator of middle and high school literature and social studies textbooks, which were published by National Geographic. Ms. Goglio brings an electric and movement-based class to her students. She told the Grace Gazette that her teaching philosophy is that, "Paying attention to the student as an individual is essential and "progress" is defined differently for each. Listening to and learning from the student is also vital to me, and I enjoy that part of my work enormously." Ms. Goglio is not brand new to the Grace community, but so far this year, she stated, "the students, my colleagues, the classes, the mission and what it represents, especially the sense of community is what I love. I also love the constant growth opportunities Grace provides." Ms. Goglio brings an exciting energy to the Grace community, and we are very fortunate to have her teaching full time this year. Just a little fun fact about Ms. Goglio is that she's lived in 6 different Latin American countries over the course of her life.