Moments to Remember, 2022: Mr. Ros Brings Down the House
Media provided by Chloe Dannenberg '23
Mr. Ros's performance with the rock band was an unforgettable act that closed off our final weeks of school before winter break. Although we only saw about 15 minutes of the seamlessly produced show, there are a lot of details that many students still don't know.
For those who did not know, Mr. Ros has a fascinating background in music. He explains, "I used to play around here, in the area at a popular rock club back then before my years of teaching." He played at a club that was called "CBGB" right here on the Bowery, near the corner of Bleeker Street.
While there was a lot of coordination that went into the performance, there was not much actual practice that happened. Asked how much preparation was involved, Mr. Ros said: "Not much … We rehearsed on Monday for like 20 minutes."
From what the audience saw on stage, it came as a complete surprise that only 20 minutes of practice could produce that amazing outcome!
Yet despite the performance being incredibly impressive, it is undoubtedly a nerve-racking experience to perform in front of the entire upper school. He admitted that he was "a little bit [nervous], because it takes a while to get used to that. It's just that uncertainty that gets you, but once you are there and you get the feel of it, it gets better."
However, he explained that his nerves dissipated mid-performance, as he began to get into the rhythm of the show.
"During the performance I felt good, once you get the feel of how things are going, you kind of ease up into it… It's kind of like getting your feet wet; so before you jump in you're kind of a little bit shaky, but once you are there, you get the feel of your bandmates and also the crowd. You get pumped, and that's kind of what drives you."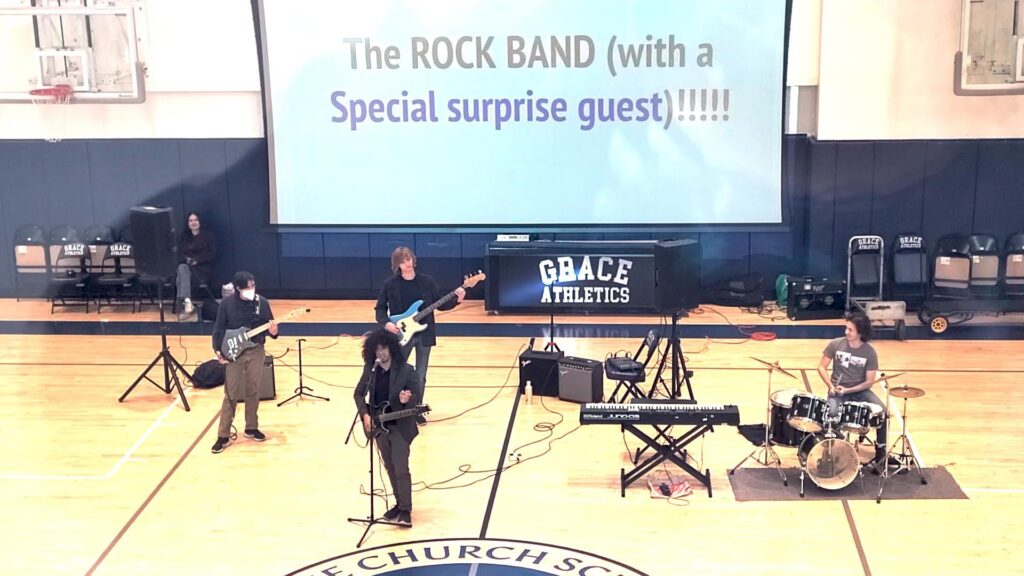 Luckily for us, this rock performance may have not been a one time thing. Mr. Ros exclaimed, "We [the rock band and I] obviously found this to be a very fun activity for us. So, yes, we're thinking of doing it again sometime if the schedules work out."
It is always fun getting to see teachers break out of their shell and provide the students with entertainment and enjoyment. The performances that occur during community meetings or all-school chapels are a real treat for the students of Grace Church. Mr. Ros lifted all of our spirits with his rock songs, impressing students and faculty alike.