Make Room for the Bike Boom
Media provided by Gazette Media Staff.
Since the start of the COVID-19 pandemic, New York City's biking culture has erupted. The years 2020 and 2021 have seen record numbers of ridership, with thousands of new bikers taking to the streets every day.
In 2020, as the virus forced people out of the subway and into their homes, the MTA documented a 90% drop in passengers (NY State Comptroller). Although the system has slowly recovered, daily ridership hovers around 50% of pre-COVID levels. At the end of the major lockdown, millions of New Yorkers returned to commuting, but not everybody returned to the subway. Instead many people, including students at Grace, began biking.
During the pandemic, Rania Challita '22 began using CitiBike, a bike-share system owned by Lyft, to get to her soccer training at Pier 40.
"Biking is not only safer with COVID but [compared to the subway] it saves me almost thirty minutes," she exclaimed.
Now, she CitiBikes to school and "anywhere in lower Manhattan," having taken 272 bike rides across 50+ hours.
Freddie O'Donahue '23 started CitiBiking for the same reason: to get to training at Randall's Island. He now bikes to and from school.
The bike-sharing system has enjoyed a spike in revenue since the onset of the lockdown. In 2019, CitiBike amassed just over $50 million (December 2019 Monthly Report). As of September 2021, yearly revenue has already reached $60 million and is projected to scratch $70 million (August 2021 Monthly Report).
In all, CitiBike Ridership is up 133% from last August. Not only has this increase funneled in cash, but it has also offset millions of pounds of carbon per month (August 2021 Monthly Report). For those who left the subways, biking was one of the more affordable and sustainable commuting options.
One native New Yorker and avid CitiBiker, Frank Perera, says CitiBike is more reliable than the subway:
"I started using CitiBike for obvious reasons during COVID. I didn't think I would stick with it, but it is so fast, convenient, and pleasant—no delays or crowded subway cars."
Along with CitiBike, personal bike sales skyrocketed in the past year-and-a-half. Consumers waited months to buy their own bikes. Even indoor cycling bikes were backed up, leading to a global bicycle shortage.
While speaking to the Daily News last year, Charlie McCorkell, the owner of Bicycle Habitat, a bike store with multiple city locations, described the major increase in demand and subsequent shortage:
"People wanted to stay out of the subways and biking proved to be a good choice for many," he continued, "While we normally stock 1,000 bikes in our shops for the bike season, we often saw our inventory levels drop below 300 and once or twice dipped below 200" (NY Daily News).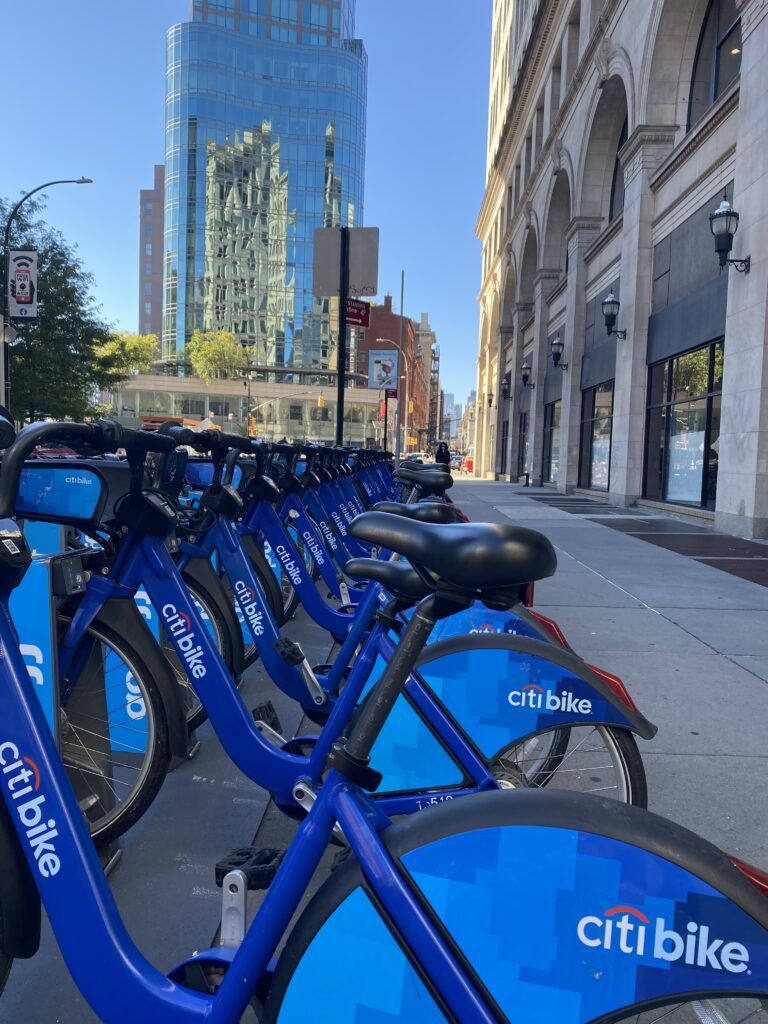 Media provided by Gazette Media Staff.
As cyclists have flooded the morning streets, there also has been an inevitable increase in bike accidents. The year 2020 saw the second-highest count of biking fatalities (22) in New York City since 2007. According to the Department of Transportation (DOT), 89% of bike crashes occur on streets without bike lanes. 
When asked if he feels safe biking in New York City, O'Donahue answered, "I wouldn't say I feel very safe. The traffic is hectic, and it's a very crazy city. I'm very cautious."
While O'Donahue puts biker safety down to attentive drivers, Challita said bike lanes are a must.
"Third Avenue doesn't [have a bike lane] and it's the street I bike on every day, so I've almost gotten hit by the bus several times."
Perera agreed that "the city can make it safer by making bike lanes clearer—with more paint."
With the number of bikers expected to grow even more, the DOT has pledged to implement 50 miles of bike lanes around the city. Ten of those miles will be protected from traffic. According to their data, this will prevent thousands of biking accidents.
The Bike Boom will continue, and the local government is responsible for protecting it. In the coming years, the city's improved biking infrastructure will foster biker-friendly streets. It has become a more sustainable, sometimes faster, and soon to be a safer form of transportation.
Even as some New Yorkers return to the subway, New York's bike boom will only get bigger. Countless former subway riders do not see any reason to go back underground.
Perera, one of many bikers not returning to the tracks, says, "I take the subway here and there for big commutes, but I'll never really go back. In most cases, for me, biking is the best way to get around New York City."