Learn Through Creating: The Visual Arts Major
The Visual Arts Major at grace is an exclusive class that requires an application and a deep interest in art. Ms. Victor, art teacher, explains, "It is a class for kids that want to take their work in the visual arts very seriously." Students are allowed to apply to take the class during their sophomore and junior years at Grace. "I certainly wait for kids to approach me about taking the class. It's not going to work for a kid that is being forced into it. Students have to bring their own ideas to the table and be super motivated in that way," Ms. Victor explains. In order to apply for the Art Major, as it is commonly called, you have to first write an email to Ms. Victor about why you are interested in joining. Then you must schedule a meeting to discuss your past experience and future plans in the visual arts. If accepted, each student will spend time on independent projects that are assigned each semester as well as take part in readings and research presentations.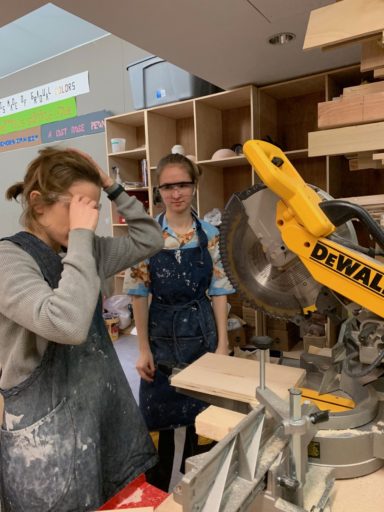 Grace offers two classes that allow students to really explore visual art, The Film Major and Art Major. These courses can be added to a student's five core classes if they drop either a language or a science. However, the Art Major in particular is different from any math or history class you may take. Ms. Victor explains, "We actually make less work than you might in another type of class where you already get a lot of the answers to the questions like: what to make and how to make it, so the students have to figure that out, but the result is that they are making work that's really independent." Because it is an art class, it strays from traditional structures but is still competitive and requires hard work.
The Art Major became available to students in 2015 because it was clear that some wanted to further their art beyond the one-hour required courses. Ms. Victor, who has taught the Art Major course since its inception, explains that concept, rather than aesthetics, has been a core part of the curriculum since the beginning, "I would say that idea of focusing on ideas and letting materials and the process follow the ideas has stayed since the first year of the art major." However, other things have changed from the beginning of Art Major. "The first year I had four [students], then a class of nine, and then six and this year 12, so it's fluctuated in size." She continued, "Over the years the projects have changed a lot, so their had never been a year where all the projects have been the same but some of the projects I think work really well do come back."
Currently, Art Major students are working on a sculpture project that is building off of a summer assignment based on repetition and difference. Students are creating their works in materials ranging from leather to paper. The Art Major has been a wonderful opportunity for these students to delve into their passion and learn through creating.