Hypebeast Fashion at Grace: The Rise and Fall of a Fad
Kith store on Lafayette Street. Media provided by Editor-in-Chief, Ava Andrews '22.
In November 2020, Virgil Abloh, the recently departed Creative Director of Off-White and designer for Louis Vuitton, declared that streetwear "is gonna die, you know. Like, its time will be up" (Essence 2020). The presence of the celebrity designer in the streetwear community served as a catalyst for contemporary street style, which had grown astronomically since its sub-cultural beginnings in New York City hip-hop scenes, Los Angeles surf-and-skate culture, and Japanese nightlife (Vocast). This community — which has spawned a $77 billion dollar industry — had now been declared dead by one of its founding fathers.
Students at Grace seem to concur that the death of streetwear, as Abloh predicted, is upon us. According to Ronan J. '24 in an interview with the Gazette, hypebeast fashion has "fallen off in recent years." He continued, "you don't have the same reaction when you see people wearing [hypebeast fashion]."
The term "hypebeast" is often a pejorative, derogatory term used against those who follow trends — it also refers to the fusion of high fashion that emerged from streetwear in the mid to late 1990s and early 2000s. Hypebeast-ism today centers significantly around celebrities and their "off-duty" daily attire: all it takes for an item's value to skyrocket on an online resale marketplace is for a celebrity like Kanye West or Beyoncé to be photographed wearing it. Brands like Supreme, Off-White, Bape, and Palace sell their products in weekly "drops," manufacturing limited quantities of new styles that often sell out in minutes. Hypebeasts can be seen waiting hours in line outside Manhattan stores in anticipation of these drops that frequently occur on Thursdays and Fridays, sometimes even camping overnight for a chance to purchase the hottest and latest items.
The movement that underlies streetwear culture traces back to the visual artists of the 1960s and 1970s. Publications like Artnet would highlight multi-medium artists who raised the question of 'what constitutes art?' Andy Warhol was a prime example of this as he used his boundary-breaking repeated iconography to reference pop-culture and consumerist icons like Marlyn Monroe and Campbell Soup. Native New York artists like Keith Haring and Jean-Michel Basquiat continued this practice, challenging the exclusivity of fine art through prolific street art careers. Street art and streetwear culture have long meshed together and interacted; Supreme to this day constantly collaborates with street artists like Nate Lowman, Kaws, and Damien Hirst.
Streetwear developed in the 1980s and 1990s, when New York City's hip-hop scene, as well as skate and surf subcultures' obsession with stickers and logos, birthed brands focused heavily on eye-catching designs and iconography. Streetwear's early pioneers were often members of New York's rap scene. As streetwear grew in popularity, designers from established brands started their own lines catering to the new culture, thus, streetwear transformed from a DIY aesthetic into a niche that could hold its own within fashion.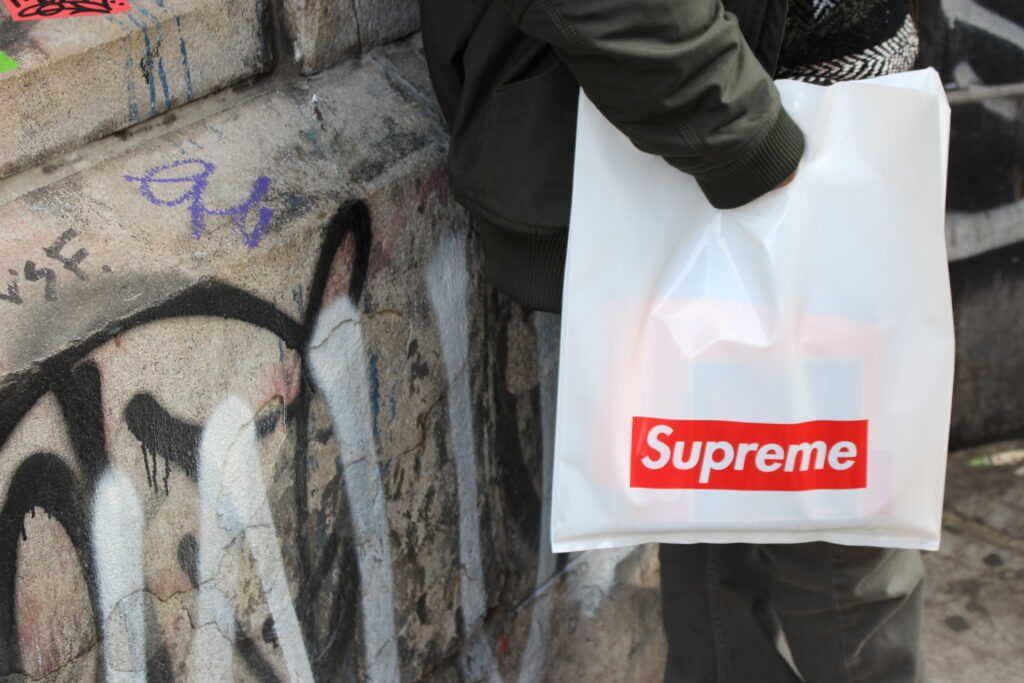 A customer carries Supreme shopping bag. Media provided by Editor-in-Chief, Ava Andrews '22.
To some, hypebeast culture proves highly desirable — a simple Supreme box-logo tee resells for upwards of $300. Perrin H. '22 agreed: "the allure was in the price and perceived exclusivity of the brands." Others are dubious: "They always seemed really overhyped," commented an anonymous Grace student, "More expensive and annoying than cool." Brands like Yeezy, observed Rohan G. '23, have "lost the exclusivity" and "all of their cool factor."
The red Supreme box-logo tee shirt, camouflage Bape hoodie, or black-and-white Off-White emblem are now increasingly rare sights, and it's no secret that the original pioneers of hypebeast-ism no longer maintain the "iconic" stature they once claimed before. An increasing number of former hypebeasts find themselves flocking to archive fashion and established designer brands. To Cyrus, the "logo culture" which drove hypebeast fashion has since become "more low-key." "Super flashy, out-there" logos have been replaced by iconic designs. Cyrus adds, "you see the [Rick Owens] iconic drawstring" or the "funny converse [Rick Owens Ramones] and know exactly what that is."
"It seems to be something people kind of grow out of at Grace," noted Perrin. "There are definitely a lot of people who still wear hypebeast stuff but, at least within my circle, I've noticed more and more people start to dislike it." David C. '24 agrees that hypebeast-ism is "unfortunately" still prominent — "a lot of people buy it thinking it's what looks amazing but it doesn't always . . .most think that just buying that Supreme t-shirt makes a good outfit, which is not enough most of the time," David stated.
The original hypebeast titans are undoubtedly here to stay, with a shadow that — despite being a fraction of its original size — continues to loom over the world of streetwear and fashion. The question remains: what was their cultural impact? Hypebeasts and streetwear aficionados have hardly lost their interest in fashion; they have simply evolved and migrated elsewhere. Jackson H. '23 agrees as he sees hypebeast fashion as a "gateway" towards high-fashion: according to him, brands like Rick Owens, Louis Vuitton, and Prada have found a new audience in former hypebeasts.
Recognizing this shift, high fashion cornerstones like Louis Vuitton and Balenciaga have absorbed streetwear's most popular trends into their brands. Since its inception as a high-fashion line known for its custom-made couture, Balenciaga has morphed into a notoriously progressive streetwear pioneer. Abloh, the creative genius behind Off-White — which hypebeast.com ranks the top 5th brand in the world — directed Louis Vuitton's menswear collection from 2018 until his recent tragic death in 2021.
The highest-fetching sales on online marketplaces like Grailed were once hypebeast pieces. Now, old and new clothes from designers like Junya Watanabe, Comme des Garcons, and Rei Kawakubo come close to surpassing their peaks of prices and attention. As Cyrus described, "if someone wants a Prada jacket, they can now go on Grailed and find it for 200 dollars out of the original 2,000."
This emerging culture of "archive-beasts" exemplifies a new trend of ex-hypebeasts developing their own unique style drawing from past designers. The hypebeast explosion of 2016 has long died down, but the impacts of the cultural phenomenon have permanently shaken fashion.