Grace Golf Team 2017-2018
The brand new Varsity Golf Team's season is off to a great start. As the team is still relatively new, and it is only their first season of being an official team, they still have some work to do though.
The team is small but still mighty! With new additions from the freshman class, the team as a whole is growing, not only in size, but talent. The team is only on week two of practicing, but has already had their first match against Horace Mann. This was the first official match in Grace Golf history, and the team did pretty well. Now that Grace is in the A.C.I.S. league, they will be facing many new competitors.
Jamie Aijala, a current 10th grader on the team, commented on the first match, "We lost to Horace Mann by eight strokes but we certainly put up a fight given that they are a very developed and experienced team."
Mr. Quinn, the head coach of the team also commented on the match, "It was extremely cold, and windy, so the playing conditions were tough. We competed against Horace Mann which is a very established program. I was very happy with how we handled ourselves, and I think it gave us confidence heading into our A.C.I.S. league play."
The team's strengths are togetherness and the ability to learn from one another. As the experience of players ranges across the team, members are able to help one another learn. I asked Anna Hedengren, a current 10th grader on the team, her experiences so far, "The season is going well so far, a bunch of really talented new people joined the team! It's still early in the season, but so far our biggest strength as a team is pushing through bad weather, and continuing to play hard."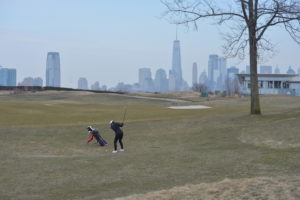 Jane Platt, who is a current 12th grader, and is also the captain of the team, commented on the season so far, "The first match against Horace Mann went quite well despite how cold and windy it was that day. While we did not win that match, it was a non-league event and we only lost by eight strokes. It was a beneficial first match experience as everyone was getting used to just playing against an opponent, keeping multiple people's score, and enduring the harsh weather."
Mr. Quinn also commented on what he thinks his team needs to work on more, "The biggest weakness we have is experience. Obviously as a new team we don't have anyone that has encountered high school golf matches. Although it may seem 'easy,' there are certain things each player has to do deal with. The players are not only responsible for their own score, but they need to be mindful of their opponents. Also, navigating the course can be tricky when playing somewhere for the first time."
The team practices three times a week, as well as has many matches. When weather is not permitting for the team to go to Liberty National Golf Course, they go to KonnectGolf. KonnectGolf is a great indoor facility in the city, where the golfers can work on their form and perfect their strokes.
So far the team is doing great and is ready to face more teams in the A.C.I.S. The teams getting ready to face Friends Seminary and Fieldston in the upcoming week, and have a busy schedule until the end of the year. We wish this unique team good luck, and go Gremlins!