Grace Church School Participates in The National School Walkout for Gun Control
On Wednesday March 14, Grace Church School participated in the National School Walkout in commemoration
of the shooting at Stoneman Douglas High School and all the lives lost to senseless gun violence across the country. Students and teachers, clad in orange hats, scarves, and shirts, gathered in front of the high school and marched silently towards the 86 Campus. As the procession moved, each student and teacher placed a white flower in front of a memorial dedicated to Ms. Lee, pausing to remember her life and the positive impact she made on the Grace community. Ms. Lee's murder at the hand of someone who should never have had access to a gun in the first place, resonated with the student-faculty body and made this march all the more meaningful.
Supported by fellow friends and teachers, the Grace procession met middle school students and faculty at the grade school campus. Moving as one cohesive body, and directed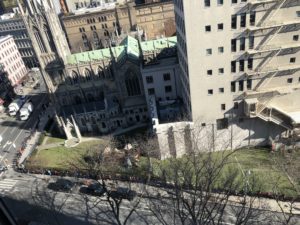 by student organizers Sam Bacon '18, Grace Leslie-Bonilla '18, Laila Durrani '18 and Begonia el Koury '18, students in grades 4-12 and faculty joined hands and circled the block around the grade school campus. For 17 minutes, the entire Grace Church School fell silent, remembering all the innocent lives lost by gun violence in America and around the world. Warmed by the cheers and support of passersby, not even the frigid morning wind could break the resolve of the Grace student-faculty body. When the 17 minutes were over, the middle schoolers returned to the 86 campus, and many high schoolers trudged on to Washington Square Park where they were met by the Harvest Collegiate School and L.R.E.I. There, students and teachers gathered around microphones and chanted, encouraging their peers to remain politically active, despite most of them being too young to vote. Grace students were featured on several news outlets such as the Huffington Post on the photo blog, in this article and on Yahoo! news. Bedford + Bowery also covered the event as well as the Anglican Journal.
The ubiquity of these marches, occurring throughout the country in response to the shooting in Parkland, demonstrates the collective ideals and motives of a national body of politically active young adults. March 14, 2018 marks the day when students around the world, whose opinions and ideas have been suppressed by legislators who refuse to endorse safety, will raise their voices and fight for what they believe in.