GCS Varsity Baseball Team Comes Back to Win 11-9 in Final Game of the Season
On Thursday, May 2, 2019, the Grace Church Varsity Baseball Team defeated Staten Island Academy in their final game of the season with a comeback win in extra innings. The team saw a standout performance from Luke Eisman '20, who homered to center field in the first inning and hit a game-winning double. Luke Eisman '20 said, "That is my first home run ever. Eisman '20 dedicated his home run to Coach Gurreri birthday. As well as seniors, Jake Dewees and Pablo Zubillaga." Noah Eisman '22 delivered a strong outing. His brother, Luke Eisman '20, came in relief during the 7th inning trailing 7-6 and pitched three innings, allowing no earned runs. In the top of the 9th inning, Grace put four runs on the board, giving Luke Eisman a good cushion to close out the game. Despite allowing two runs in the bottom of the 9th Grace prevailed over Staten Island Academy.
After the win, I spoke with Coach Gurreri who said, "It feels fantastic. These guys worked so hard for that win and this is the Grace team that I remembered, the team that never gave up, battled back…and played solid defense." This game was especially important to seniors Pablo Zubillaga '19 and Jake Dewees '19, who played their last game wearing the Grace uniform. Gurreri added, "Their final game in a Grace uniform is a great one to go out on. They played great defensively, they stepped up to the plate all pun intended…. They were a great asset to our team over the past four years and I thank them for their service… "I expect big things [next year], we are a young team, we're scrappy, you guys are able to pull off this win in classic form. You guys played the ball the way it was supposed to be, you made the simple plays simple, you're putting the ball into play, smart base running, I am expecting real big things over the next few years."
Starting Pitcher Noah Eisman '22 said it felt great, "Especially after a rough outing… a rough first inning, but I was glad I could come back with a strong second." Eisman '22 spoke on the future of the team for the upcoming years, "Next season hopefully we pick up some strong freshman and I feel like everyone is going to be more confident in their abilities after this good win. When asked about pitching with his brother he said, "I had faith that Luke would come in clutch. In fact, this was the first time Luke Eisman '22 and Noah Eisman '20 played together in an actual season.
Catcher David Nimura '21, said, I think the win is really rewarding, "especially going into that last inning tied 7-7. We were just able to battle back and I was really proud of all of us that we just kept putting the ball in play, 1-9 hitting all day… only five strikeouts all game, which is really impressive, we were making their pitcher work and it was showing, they made plenty of errors, and were able to pull this out in extra innings."
Center fielder, Harrison Goldberg '21, touched on the behavior of the Staten Island Academy players and coaches. "We played them a few weeks backs, we didn't have a full squad, we were putting some of our second tier players because it was not an official true league game. We didn't like the way they came across, from their coaching staff to their bottom players. … They liked to talk a lot… coming into this game… we were all really excited to play them again and I think it was important for us to get ahead early like we did and just to stay with it and eventually come out with… From my experience in sports, the best thing you can do is get into the oppositions head… no hard feelings towards Staten Island Academy… I wasn't happy with what they were saying and I think we got in their heads and I tried to help the team get some energy and I think that's what happened. We pulled out with the win and that matters." Goldberg '21 had his debut season with Grace and said he looks forward to coming back next season: "I think this last game of the season has as all very happy, ending on a high note here and I think this just gives us momentum going into next season." Finally, Goldberg '21, spoke on the importance to this win for Coach Gurreri, saying, "Coach Gurreri pulled us all together in the 7th inning and pretty much nobody had any idea, and he told us it was his birthday, and I think everyone went in to the final two innings and just had the mentality of doing this for not only just Coach Gurreri on his birthday, but also we wanted to send our seniors out the right way."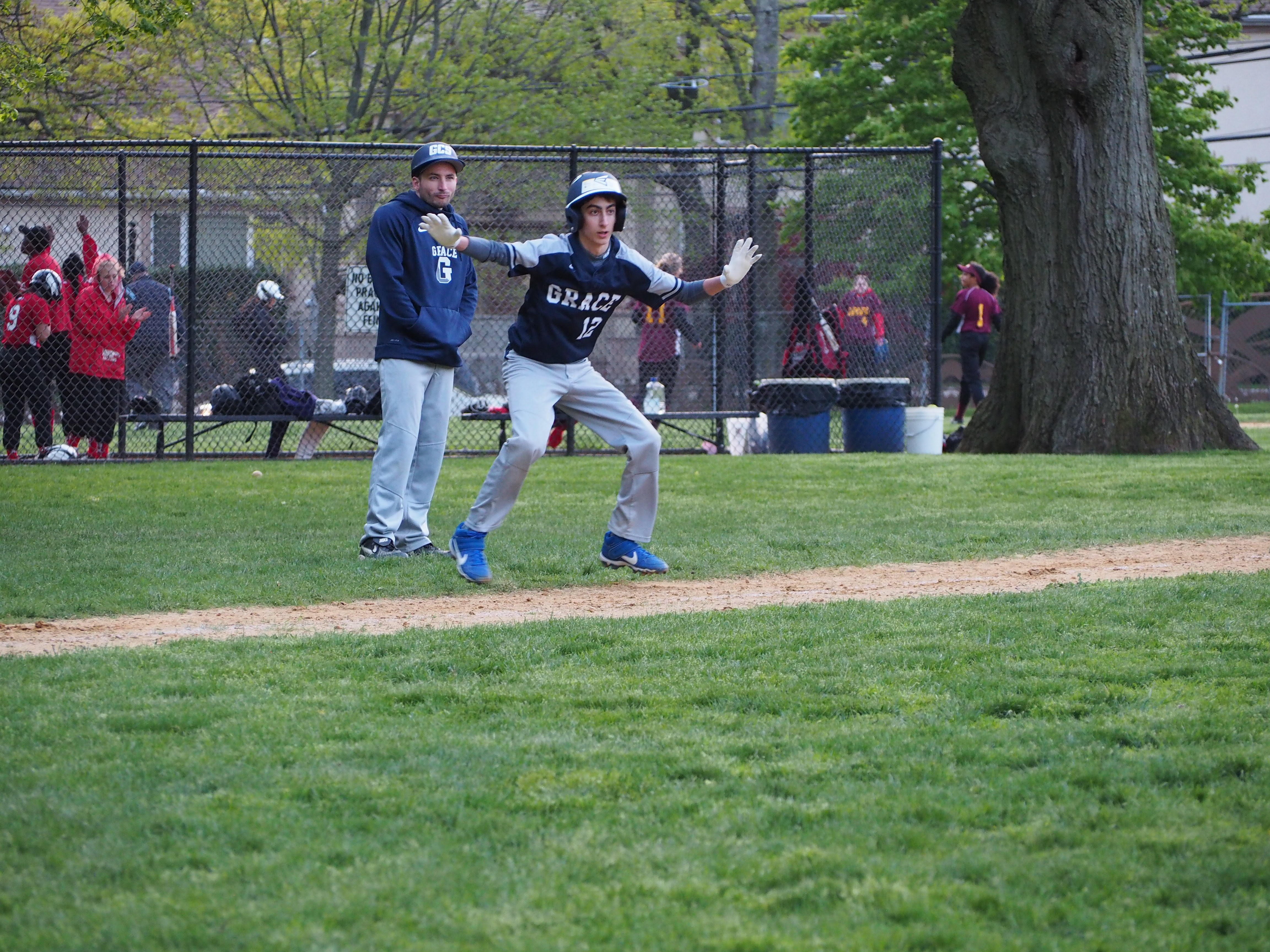 Overall, the Varsity Baseball Team was able to battle back from a 4 run deficit and defeat Staten Island Academy. It was a hard fought game with lots of hard work and excitement from GCS. This game was a great farewell to the players of 2019 and a great birthday for Coach Gurreri.