Final Community Week Celebrates the Arts
On the week of May 17, 2021, Grace Church School hosted its sixth and final Community Week. "Community Week" is a new concept implemented during this virtual school year which not only allows students and teachers a week off from classes and a much-needed break from their screens but also time for symposiums centered around anti-racism and community building. This past week served as an "Art's Festival," highlighting the final products of the art majors, the launch of the art and literary magazine, ephemera, Jazz Ensemble, the Grace Theatre Company's spring musical titled "A Guide To Getting Through," and the Grace Dance Ensemble's performance "In These Unprecedented Times…"
Dance Ensemble: "In These Unprecedented Times…" — Ashleigh Phillips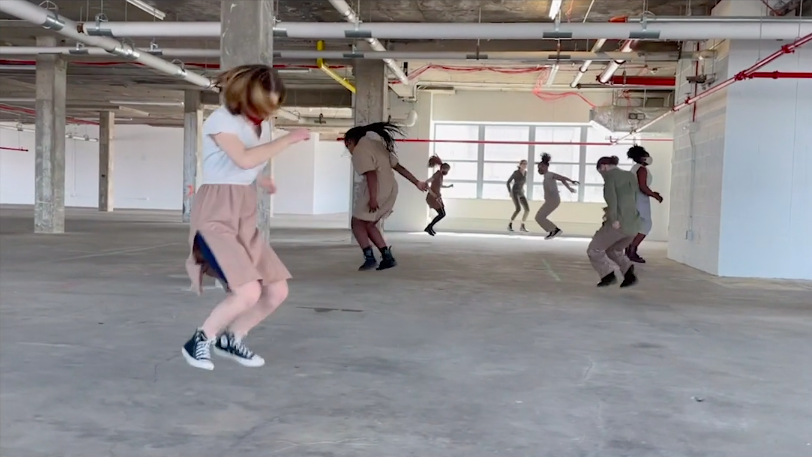 The end-of-year performance by Grace's Dance Ensemble embodied a powerful message of unity, community, collaboration, expression, and creativity, through a uniquely virtual medium. The live Zoom performance, which was recorded and is available on Vimeo using the password "Unprecedented," encapsulates this emotionally draining, chaotic, and surreal school year. Ms. Jenny Pommiss leads The Dance Ensemble and this performance was co-directed by Simon Thomas-Train and guest-choreographed by Alice Gosti who Ms. Pommiss said "[pushed] the limits of the Zoom platform."
"We wanted to encourage people to embrace their surroundings using the objects in the space to create a place of familiarity," shared Ms. Pommiss. "The overall performance truly encapsulates the creativity and adaptation the year of 2021 heaved upon us. This performance in particular helped reveal students' creativity and expression through a constant and exciting presentation of the arts.
Jazz Ensemble — Brando Babini
During this arts-themed Community Week, the four Jazz ensembles at Grace performed covers by Thundercat, the Black Keys, Stevie Wonder, Herbie Hancock, and more which can be accessed on Vimeo. The performances boasted over one hundred virtual attendees throughout the week.
Eli Nelson '23, a jazzist in Mr. Kadajski's Jazz Lab 2, described the difficulties of performing remotely as "impossible." He explained that the experience is akin to " running a marathon after you've gotten out of bed." He continued, saying that the audio delay and your own background noise make it hard to "get cues or feel the atmosphere."
While he assured that the performances would've been far better in person, Nelson notes that his teacher, Mr. Kadajski, "was very proactive in organizing the band over Zoom." Nelson, along with the other jazzists, are eagerly anticipating the return to in-person performances next year.
"Let it Sing" Beatrice White '23 and Perrin Hinds '22

"For Hayao Miyazaki" by Liz Pollock '22

Final collage of "Connecting…"

"Rage and Pineapple Jarritos" by Sofia Perez '21 / "The Comedown" by Grace O'Hara

Charlotte Robertson '21

"Untouched" by Holden Marcowits '21

"I Got You" Grace Theater Company

"Quickfire Connections" by Chas Phillips '22

"Song of Purple Summer" Grace Theater Company

"The Beach" by Charlotte Merrin / "Tranquility" by Sophia Fodor

"In these Unprecedented Times…"

"Die, Vampire Die"
Launch of the Arts & Literary Magaine, ephemera — Bella Johnson
Another highlight of this past community week was the launch of this year's issue of the arts and literary magazine, ephemera. This eighth issue was titled "Connecting…" to represent students' struggle to connect with one another over the past year. At the launch party, students featured in the magazine shared their work and explained how it relates to the theme of connecting. Students submitted art in a variety of mediums–from poetry to drawings to animations–which allowed students to express their creativity and artistic talents in a collaborative environment. However, none of this would have been possible without the guidance of Ms. Gabriela Salzar and Ms. Abeer Hoque, the club's faculty advisors. Regarding the process, Ms. Salazar shared that she's "really proud of the work our team did." She continued, "I love the design concept that the students came up with; a growing collage of bits and pieces converging to make a chaotic but beautiful new image. It's a metaphor for our community: little and big parts of all of us, moving and glitching, coming together to make Grace what it is."
Ms. Salazar also highlighted the timelessness of ephemera illustrated by the inspiration behind the name which comes from the word "ephemeral," or something that is short-lived. She believes that "one of the most special things about ephemera is that it is a time-capsule you get to look into whenever you want! And in it, you can see and reflect on your own changing experience."
Students also shared in the enthusiasm for this year's ephemera edition. In an interview with the Gazette, Ava Andrews '22, a co-leader alongside Nick Evers-McKoy '21, remarked, "It really is a collaborative process. It was amazing to see how people were using art as an outlet for everything that was going on during the pandemic."
ephemera will continue to be an integral aspect of the arts culture at Grace as it gives all students an opportunity to showcase the artwork they produce inside and outside of the classroom.
Spring Musical: A Guide to Getting Through — Sarah Herrera
Through directing this year's spring musical, titled "A Guide to Getting Through," Ms. Sabrina Jacob Washburn hoped to "instill a sense of hope and excitement for what lies ahead as we emerge from the pandemic and settle into our new normal." Ms. Washburn explained that the Grace Theatre Company wanted to create a production that could be shot in person all over New York City, while showcasing the company's unique capabilities. She hopes that the play allowed its audience to recognize the importance of leaning into your community in difficult times. "Together we can pull through anything!" She assured.
The Grace Theatre Company rehearsed on Zoom from late January through early April, practicing the songs, dances, and staging remotely. According to Ms. Washburn, there were many challenges coupled with having to rehearse over Zoom. It was impossible to sync the sound when performers had to sing or dance, making it difficult to practice as a group. After some time practicing remotely, the company was able to gather together for one day in the high school's gym and rehearse individual numbers one at a time. This period of rehearsals was used to prepare for their week of shooting, which required them to film all around the city.
When asked about the challenges faced during the production's development. Mrs. Washburn mentioned that she lived in the Bay Area in California, during the crucial period of organizing and directing "A Guide to Getting Through." In addition, a few students tested positive for COVID-19 during the week of shooting which necessitated last-minute understudies.
When asked about her favorite part about directing the production, Ms. Washburn said that she found it wonderful to see the students gather together in person to do what they love for the first time in over a year. Sadly, this musical was Ms. Washburn's last production as she is moving back to California next year, but the theatre program will continue to work hard to produce musicals that encourage hope and remind us of the strength of the Grace community.
Art Major Showcase — Olivia Berger
Hybrid learning did nothing to hinder the creativity of the art major students. Throughout the course of the year, ten juniors and seniors developed their artistic voices through multiple projects facilitated by Ms. Stefanie Victor. The first prompt, "Accumulation" asked students to design fifteen to twenty linoleum prints based on images from their summer sketchbooks. In a second assignment, titled "Dedications," students were tasked with creating something that was a dedication to a person, thing, or concept. In another project, called "Functional," students were instructed to subvert the function of an everyday object. Each student took a unique approach to the requirements, which led to the creation of the diverse exhibition that opened on Tuesday, May 10, 2021.
"Although not ideal, this year has proved that it is certainly possible to create art in a remote learning environment," Liz Pollock '22 said in an interview with The Grace Gazette. However, as expected, Zoom was not able to replicate the complete art major experience. Pollock went on to say that many artists "treasure the support and opinions of the other people in their studio. Because our time in person was limited, that aspect of the art-making process was lost."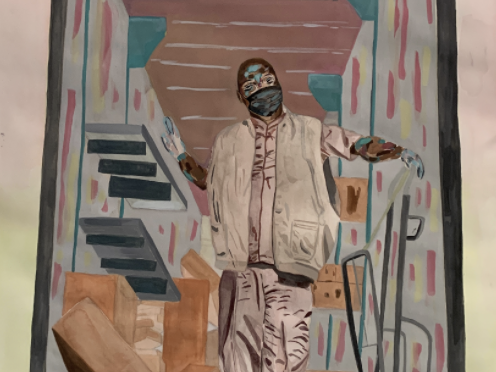 "Winston" by Colette Leong
Thankfully, the artists were finally able to receive some feedback and recognition. Students and teachers who attended the show were in awe of the works' quality and creativity, as evidenced by the overwhelmingly positive comments that flooded the Zoom chat throughout the presentation.
Pollock explained how despite the challenges, this year was extremely rewarding. "The best part of art major was the guarantee that I could spend at least an hour every day doing something that honestly made me happy. Whether it be in school or for homework, the class forced me to make time for art."
All art pieces, some accompanied by statements made by the artists, are available on Miro using the password "graceart".
We thank all of the artists–whether they be musicians, dancers, sculptors, singers, or performers–for refusing to allow the obvious shortcomings of this year to limit their creativity. Grace is ending this year on a high note because of their ability to capture the moment and because of their heartening vision for what comes next.
Featured image by Louise Giddings '23