Fall Senior Athletes Reckon With a Bittersweet Farewell
Captain of Boys Varsity Soccer, Perrin H. '22, during Homecoming game. Media provided by Grace parent.
For many senior athletes at Grace, the final season of their respective sport entails an emotional goodbye to such an influential aspect of their high school lives. Grace sports have played an integral role in many student athletes' high school experience in developing sportsmanship, progressing their skills, and building close-knit friendships.
Senior Perrin H. '22, captain of the 2021 Boys Varsity Soccer team, who has played on the squad since ninth grade, expressed his gratitude towards the energy of the team in an interview with The Gazette. "Ending off the season was great!" he exclaimed. "We ended on two straight wins, everyone was having fun, and there was a lot of school spirit surrounding us and the Girl's [Varsity Soccer] team." Perrin also remarked that Grace soccer gave him "a home within the school, and the opportunity to talk to upperclassmen without being worried about what they would think of me."
Co-Captains of Girls Varsity Soccer, Rania C. '22 and Alexa B. '22, after ACIS Championship win. Media provided by Grace parent.
The Girls Varsity Soccer team had an outstanding season: claiming the ACIS championship cup in October and wrapping high school soccer up neatly for Senior Co-Captain Rania C. '22. As goalkeeper, Rania knows the emotional aspect of winning and losing points all too well. She constantly feels the weight of the pleated soccer ball flying into her hands as her teammates cheer, or feels the weight of losing a point when the ball is catapulted onto the net behind her. She described the conclusion of the season as "really sad." She continued, "I cried a lot. But it was definitely one of the best communities I've ever been a part of. Everyone is just so much fun, and whether we win or lose it's just always great to be with the group of people I've grown so close to." Yet, despite Rania's impending departure, she expressed that she will always care about the team's success. Both Grace Varsity soccer teams have certainly fueled new friendships and expanded school spirit in recent years, leaving senior athletes with years chock-full of meaningful takeaways.
Rose A. '22, captain of the 2021 Girls Varsity Tennis team, wrote that she was "disappointed" that her team did not make it to the finals, even more so because it is her last year. Rose has a hopeful attitude towards the future of the tennis team as she wrote in an email: "I look forward to hearing about future seasons and hopefully the girls securing a banner. I'm excited to hand the baton off to the current juniors who will continue to make it an enjoyable sport and put in the work to get an even better record." Rose expressed that she is extremely grateful for the environment the tennis team has created for her and her teammates throughout her years at Grace.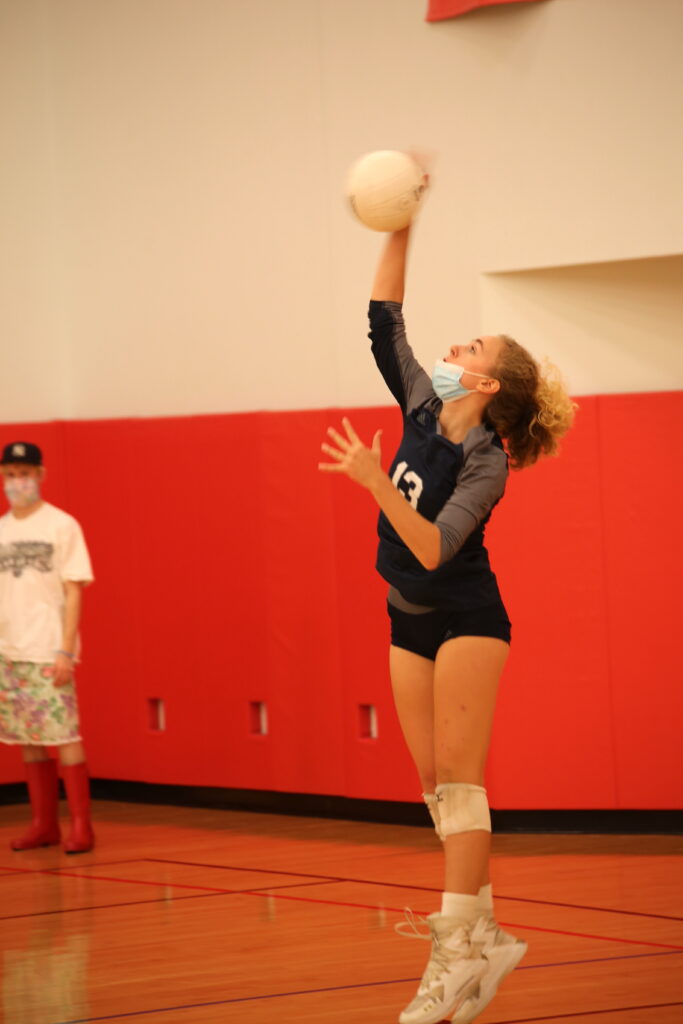 Captain of Girls Varsity Volleyball, Josie M. '22, mid-serve. Media provided by Grace parent.
Senior and co-captain Josie M. '22 has been a part of the Girls Varsity Volleyball team since freshman year. With four years of high school volleyball experience under her belt, she retires from Grace volleyball and will pursue collegiate volleyball at Oberlin College. Josie described her departure from the team as saddening, yet hopeful; "It was sad to say goodbye to the sport I have been playing for all four years of high school but it was also exciting," she asserted. "I'm playing volleyball in college, so with an entire season ahead of me it didn't necessarily feel like the end." The influence of high school sports extends beyond graduation.
Fall senior athletes conclude their careers at Grace with an emotional goodbye to their teammates, coaches, and supporters, leaving an integral aspect of their high school lives behind. Yet, seniors Josie, Perrin, Rania, and Rose, bring their takeaways with them in the new journeys they embark on and send encouragement for their teams' futures.  Through their wins and losses and cries of defeat and joy, the fall athletics season has been enjoyable to witness, yet brings a bittersweet ending for our senior athletes. We thank our senior athletes for their encouragement, leadership, and dedication to their teams and wish them the best of luck as they graduate in June.