Escape from Quarantine Book Picks
As summer approaches and school begins to wind down, we're all going to have more time on our hands. If you're looking for something to do without a screen that can transport and entertain you just as well as any movie can, a good book is your answer. Here are six of my all-time favorite reads that have earned their place on my bookshelf. I recommend them to everyone, especially when we need a way to relax and let reality fade away.
Such A Fun Age by Kiley Reid (320 pages)

When Alix Chamberlain — a wealthy white woman living in Philadelphia — asks her babysitter Emira Tucker to care for her daughter late at night, Emira accepts, needing the money. Then, when a police officer sees a young black woman out late at night with a white child, he accuses Emira of kidnapping two-year-old Briar. A video of the altercation is leaked and Alix and Emira find themselves more connected than they ever could have imagined. Such a Fun Age emphasizes the weight of calling someone "family" and asks readers to answer the question of what happens when you do the right thing for the wrong reason.
Into Thin Air by Jon Krakauer (301 pages)

This book is the perfect excuse to curl up in a blanket and read all day. Into Thin Air is the harrowing tale of one of Mount Everest's most dangerous and deadliest seasons ever recorded. Journalist Jon Krakauer — one of few to survive the ascent of Mount Everest –leads readers through a nightmare riddled with avarice and poor judgment that reveals itself when things suddenly go south. Into Thin Air is a true nail-biter and a great escape from our current situation.
Educated by Tara Westover (352 pages)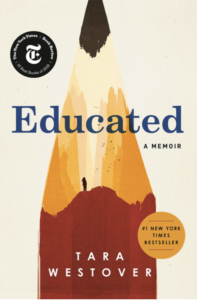 Tara Westover's Educated is a very honest and raw memoir that describes her childhood growing up with parents who didn't believe in education or conventional healthcare methods. Educated opens with her father preparing for the end of the world and then takes readers through the inspirational story of how Tara ends up learning at some of the most prestigious institutions in the world even though the first time she stepped in a classroom was at seventeen. Educated is a beautifully written book that highlights the importance and value of learning.
The Handmaid's Tale by Margaret Atwood (295 pages)

This is a book that has been recommended to me many times but I had not picked it up for numerous reasons before quarantine. I'm so glad I finally did. The Handmaid's Tale is a dystopian, sci-fi book that predicts a future where fertility rates have dropped drastically, and under a totalitarian regime, women who are known as "handmaids" are valued merely for their ability to reproduce. The bestseller follows a woman named Offred who — under this new regime — is stripped of her family and autonomy but still manages to hold on to hope.
Unbroken by Lauren Hillenbrand (473 pages)

Just an all-time favorite. This book should win every award for elucidating such an inspiring (and true!) story about World War II hero Louis Zamperini who was about to race in the 1944 Olympics but was suddenly drafted to be a bombardier. When his plane goes down and he becomes a prisoner of war, it is only after two and a half years that he is finally able to return home and tell his story. A bone-chilling and beautifully written biography.
Life of Pi by Yann Martel (319 pages)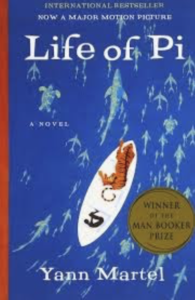 Pi, whose real name is Piscine, lives with his family that owns a zoo in India. When his father notices how fascinated Pi and his older brother Ravi are with the animals, he forces them to watch a tiger tear apart a live goat right in front of them. He makes sure to scare them into believing that wild animals are never to be treated like people or underestimated. Suddenly, Pi and his family decide to immigrate to Canada. They sell the zoo and the animals and the family board a cargo ship called the Tsimtsum. When a terrible storm capsizes the ship, Pi is forced to better understand the animals and himself through a journey in which he is the only survivor. I find it cathartic to read books that echo your own feelings back to you. We all may feel a little adrift, lost, and confused right now and Life of Pi is the novel to read to feel a little less alone during these frightening times.
Even if you don't usually identify as an avid reader, this is an unusual time. Any of these page-turners is the perfect place to start enjoying books. You never know; you could possibly pick up a new hobby that can help you through life in a pandemic.