End of An Era In Boys Soccer
For the last four years, the Boys Varsity Soccer team at Grace Church School has seen a tremendous amount of success. A large part of this success is due to the collective effort of 12 different players, all with one thing in common, they're all members of the Class of 2019. Malcolm Gibson and Jiwon Simpkins have been members of the Varsity team for all four of their years at Grace, where they've made three playoff appearances, two runs to the finals, and won the 2015 PSAA Championship.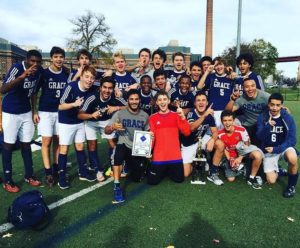 I sat down with the two, who are now captains of the team, for an interview one day after their final game for Grace.
Have you thought about the emotions going through your last game with Grace?
Jiwon: "I cried. I made everyone cry. It's been such a big part of our lives for our entire high school career and now that it's over… I've never really felt this sense of conclusion."
Malcolm: "It's one of those things where I didn't think it was going to end. I guess it hasn't hit me that I'll never be playing soccer again here at Grace. I feel like soccer is still lingering, I haven't had that sense of closure with it at Grace yet."
How do you think you've grown over the four years?
Malcolm: "I've grown tremendously. I've been playing the same position each year, so I've been able to take what I've done or what I've messed up and improve them that much more. I feel like I've become a lot more of a leader and my skills have improved greatly just by being aware of what I'm doing wrong and how to fix it."
Jiwon: "When I started out I was kind of an individual player, I was just more concerned with stats and whatnot, but towards the end of my career at Grace, I became more aware of the team effort and the importance of trusting your teammates and being encouraging and not so single-minded."
How did it feel making the Varsity team freshman year?
Malcolm: "It was very rewarding. I kind of went in wanting to make the varsity team, that was my goal, and throughout pre-season I was a little shy, a little nervous, but I just let myself do the work and show what I was capable of."
Jiwon: "Like Malcolm, I had the expectation, or I thought I had it in me, to make varsity. When I toured, Manny, who was the captain at the time, spoke to me about playing and it was really nice cause you had all these guys that you didn't know and you just let the ball do the talking."
Do you have a sense of accomplishment having been on Varsity all four years?
Malcolm: "Honestly, yeah. Nowadays, as a senior, it's kind of felt normalized that I've been on varsity. When I came here the school was very new, it was only the fourth year the high school had been around, so it wasn't too much of a challenge to make the team. But it's definitely a great accomplishment to be on a varsity team for four years in high school, no matter where you are."
Jiwon: "Yeah, the same as Malcolm. These are my fondest memories of high school; I'm very happy that I participated in the group. It was a tremendous experience."
Do you have one memory that stands out from your time on the team?
Malcolm: "One from freshman year… I remember the playoffs, the semis and finals, I scored almost the exact same goal in both games…and just the celebration afterward. At the time the team was very energized, very hype, very excited, and it was just great to feel all the love from everyone in those crucial games… and winning the championship."
Jiwon: "For me, winning the championship was obviously a big one. I remember the first goal that I scored for Grace; it was a pretty bad goal. I kind of just snuck it in under the keeper. Then this season we had a game against Brooklyn Friends that I didn't play in. We went 2-0 down, and [Malcolm] stepped up and put the game on his back, and he slotted two. That was a big highlight for me because I was just on the sideline trying to coach and lead the kids and to see how far we had come as a team from a bird's eye view was really nice to see."
What do you have to say about Coach Carl and your relationship with him over the last four years?
Malcolm: "Oh wow! Our relationship has evolved greatly over the last four year. When I was a freshman, we didn't have many lengthy conversations. It wasn't much of a bond or relationship where we talk all the time. As the years have gone on I've talked to him more and opened up to him more. I've learned more about him, and he's learned more about me. It's a great coach-to-player bond to have for a long period of time. When it comes to the end, you see how far you've come and how much you've grown together and it's really great to look back on."
Jiwon: "Me and Carl weren't always the closest. We had some rough patches where I wanted to play a certain way and that didn't fit with what he did. But especially after this year, he's like an older brother; he would teach us things about life that we wouldn't get from conventional sources. I think it was really significant for me to have a guy like that in my life. We've all grown together and that's a hell of a thing to have."
Do you think because half the players on the team are Seniors, that has helped you play better or bond more?
Malcolm: "There's definitely a strong bond between the team this year. Not only cause a lot of us are in the same grade, but because there's a lot of returning players. We went through some hardships at some point in the season and it brought us together as a team knowing that we got to step it up as a unit and everyone was on the same page. It's a very cohesive group."
Jiwon: "You can feel the love on the team. That started with the coaches; they were very supportive of us this year. It was all positive. Like Malcolm said, even through tough parts of the season, we were all there for each other, picking each other up. I think that was the key to having the season that we did."
Next year, where at least half the team is going to be new, what do you think it's going to be like?
Malcolm: "I definitely have a lot of trust in the guys. Not only did Varsity have a pretty solid season but JV did as well. The players that are returning, the sophomores, the freshmen they're all studs. I think the players coming from JV will be a great help."
Jiwon: "I mean it's tough when you have graduating classes and new classes cause the roster is always changing, so it's really important to make the most out of each season. We look at the squad, and we got a lot of solid athletes and a lot of solid players coming up and Carl knows that."
Speaking of Chase, do you think he, being the lone junior on the team, will be ready to lead?
Malcolm: "He definitely has the skill and the work ethic, I'd just say if he's serious and he really steps into the role of a leader and is vocal, I think he is capable of leading the team."
Jiwon: "It's just as much mental as it is technical and physical."
I also spoke with a few other Seniors that have been on the Varsity team during the last four years. Each player reflected fondly on their time playing soccer at Grace and their progress since being on the JV team.
Louis Schoeppach said, "My favorite memories are probably the practices where we just scrimmaged and there was no pressure…we were all having a good time."
When asked about how it felt finally making the Varsity team Brian Jorgensen said, "About time."
Josh Hull shared what he thought the reputation of Grace Soccer is around the league, "I think we are known as a dangerous team. We made it to the finals last year and to the semi-finals this year. Three years ago we probably weren't taken seriously, but during the past two years, I think teams know our presence and expect us to be a difficult game to pass."
Luke Casesa had this message for the young guys as they progress into more prominent leadership roles on the team, "I hope they can keep the mentality of the team together, but also continue to embody our spirit: winning isn't important, it's everything."
I took the time to speak with Coach Carl and ask him what coaching these seniors has meant to him: "My seniors were great players and more importantly great leaders." He spoke often about each one of their talents and how they all contributed to execute a game plan. About watching his captains play over the last four years, he said, "Malcolm has been my captain since the beginning by always being the hardest worker and giving everything he had for the good of the team. Jiwon was a very talented kid as a freshman and I was excited to be his coach and watch him grow technically and become the leader he was on our team." Finally, he left his seniors with this message, "Brian, Malcolm, Jiwon, Daniel, Gabe, Paul, Will, Louie, Luke, Josh, and Sam, it was a pleasure to coach all my seniors this year and awesome to watch them mature on and off the field."
Chase Gardner is the only junior currently on the Varsity team, and when asked about what he thinks his role will be next year he said this, "We're losing a lot of players, so I'm gonna have to step up." "I'm already captain of the basketball team" he said, "so that I think has prepared me" When asked what he thinks it'll be like without the seniors next year he was optimistic, "To be honest, it's not going to be the same, but we can stay at our best"