Early Farewell for Senior Athletes?
In an email sent out to the school by Assistant Director of Athletics Timothy Quinn, he sadly informed the Grace community that "running a cohesive league-based fall season schedule would be unsustainable," meaning fall sports have been officially postponed. Seniors, looking forward to a final year with their teammates, now have to reckon with the notion that their athletic careers at Grace may have come to an end without a proper goodbye.
As the 2020-21 school year neared, hopeful seniors had to deal with the harsh realization that the fall sports season was likely not going to happen. Lucas Rivera '21, a member of the varsity soccer team, said "I knew the situation was not going to be resolved by the time we got back to school." Avery Rahr '21, however, believed that the tennis team would be able to play their season."I thought tennis was a good socially distanced sport, so yes I was expecting to play," said Rahr. Despite these differing expectations, the athletics department ultimately decided it would be in everyone's best interest to postpone the fall season.
Although there are so many unknowns right now, Mr. Quinn did leave open the opportunity for fall sports to play their season in "the early spring months." Eliza Gilbert '21, a member of the girls varsity soccer team, said "I still have hope we can get in a partial season in the spring, even if it's just for a few games." Some sports, such as soccer, are nearly impossible to play while maintaining proper social distancing. Because of this, the school is not willing to risk the health of students for a sports season. Rahr, captain of the tennis team, stated that she would be open to playing alongside the boys team in the spring should that be an option. "I would love one last chance to play for the school," she said. Everyone has their own hopes and wishes as to what they want to see happen, and there is still plenty of time between now and the spring for everything to get figured out.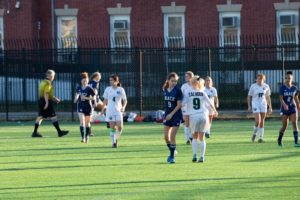 While some juniors like Gilbert have a positive outlook for the rest of the year, others have a more pessimistic view. Rivera believes his high school soccer career may be over. "I have played on the team freshman through junior year. I don't believe that I am going to be able to get a proper sendoff. It feels incomplete," he said. This idea of not getting a proper sendoff is weighing on many, such as Rahr, who has "been looking forward to [senior day] since Freshman year." She's worried that she might not get that opportunity now.
It was certainly a difficult thought that seniors have had to deal with over the past few months, and now it has become a harsh reality that sports may not be played at all this year. We can all hope for the best, but chances are that many student-athletes have seen the end of their athletic careers at Grace. Until we find out for sure, all we can do now is wait.