A Rival Cube in Astor Place??
Anyone who was walking home from school last week past Astor Place must have noticed the big black cube. No, not the black cube that we students have become so accustomed to seeing, but rather a new cube, with a different message. Yesterday afternoon on June 7th 2018, the anti-tobacco campaign Truth, built an art installation where passersby could view, in real time, a person undergoing treatment for Opioid addiction.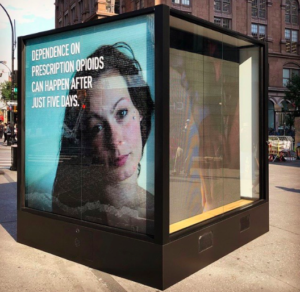 Truth is a national campaign aimed at eliminating teen smoking in the United States. Truth produces television and digital content to encourage teens to reject tobacco and to unite against the Big tobacco industry. While their focuses are primarily on television ads, yesterday, they moved into the contemporary art scene to deliver real, tangible evidence of the opioid crisis in the United States.
As I walked passed the cube on my way home, I  saw dozens of people gathered around the cube, staring at a screen on one side of the cube that showed live footage of a woman in her bed recovering from opioid addiction. Every few moments she would jerk and move around, often flailing her arms around, clearly deeply distressed. The art installation was meant to show the public how quickly one can can gain dependence on prescription opioids. We asked students and teachers around the school what they thought about the exhibit, and the responses were mixed. Dean of Student Life Ms. Laurence said: "Although I'm in favor of the importance of messaging around the fatal dangers of opioid abuse, I would have liked for the school to have received advance notice about the installation. This would have given us the opportunity to contextualize the exhibit and educate our students rather than have them simply be shocked while passing by."
Agreeing with Ms. Laurence, Xan Capus '19 said, "I think understanding the opioid crisis in America is important, but I think they did it in a weird way and it was a little creepy." Declan Slonim '19 had a different opinion, " While I did think it was a little creepy, I think it is a super interesting visual concept and was an excellent commentary on the opioid crisis in America and the struggles of people dealing with addiction." Kayla Diaz '19 commented on the artistic side of the exhibit, "I was intrigued by the events occurring in Astor Place, and I thought that visually it was a very interesting piece. I really want to know more about it, but it is now gone." While opinions of the Grace student body were mixed, it is safe to say the Truth art exhibit shed an important light on the crippling opioid crisis in America.