A Revitalized Clubs Program At Grace
This years club program is as strong as ever and is growing just as fast as Grace Church School's reputation. Out of the forty total clubs, five new clubs are being introduced into the Wednesday activities block: Mock Trial, Political Discourse, Table Top Games, Dungeons & Dragons, and Intro to Japanese. 
Mock Trial Club, run by Ellie Rubin '21, Simon Wigdor '21, and Rev. Hummell, is an opportunity for students to get an inside look at courtroom strategies and scenarios. Students take the roles of the prosecution, the defense, and witnesses as if it were a real trial. Simon said, "I started Mock Trial Club in order to give students and myself a better understanding of the legal process and also a chance to compete in a competition that many independent schools compete in."
Political Discourse Club, run by Otto Landesman '20, Mr. André, and Mr. Rossi, is a space for kids to discuss political topics in a neutral space. Otto Landesman, the club founder, felt that "the school didn't have a platform to deeply discuss politics in a casual manner. I started the club because I wanted the opportunity for myself and students of the school to educate themselves on political topics." Ms. Laurence, Dean of Student Life, is "excited to see and encourage a conversation between students from different perspectives."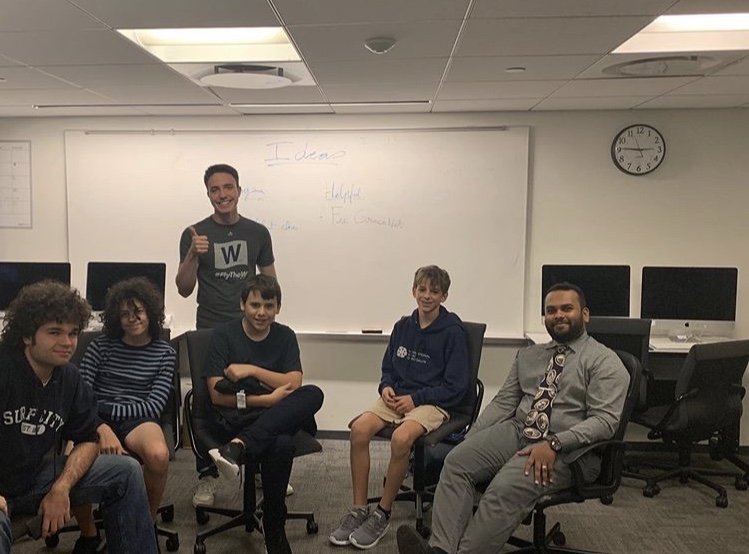 Table Top Club, run by students Henry Pallesen '21, Parker Rudd '21, Jay Wu '21, and Ms. Walker, "is a club where members get together to learn, make, and play board/card games. Tabletop games are proven to be a great way of connecting to other people and de-stressing. Throughout the year, as we play games and learn what we like to play, we will begin creating a board game of our own."
Dungeons & Dragons lead only by senior Cameron MacDonald, is a club where people who want to play Dungeons & Dragons can, no matter if you haven't played the game before. The club primarily serves to teach people how to play. 
Nick Russell '21, Shomari Smith '21, and teacher Mr. Pelz are starting the Intro to Japanese Club. This club is exciting is because Mr. Pelz, a Grace middle school alum who is currently working as a middle school assistant teacher, is bringing a new language to the school, which is a great opportunity for students. The Japanese language club is open to students of all grades. We hope to broaden our language diversity through this club and add a form of communication to our language belt. Since Grace is a new school, we think that adding a club like this can help distinguish it and connect to other opportunities at this school.
Out of all the clubs in the school, Bread Club, taught by Evan Brorby '20, is the most popular club. With only being two years old, this year, the club received a total of 43 requests to become a member. When club requests were first sent out, Evan said he "received almost 50 requests to join bread club, but because we have nowhere near that kind of space, I had to turn down over 35 of them." Generally, most clubs range between 5 and 10 students, but Evan had to cut down the total of students to 15. At first, he considered accepting all the students, but that would mean splitting the clubs into two semesters. Being a senior, Evan decided to keep the club to only the first semester, considering he won't be around for the whole second semester.  


The wide range of club this year is very exciting. The opportunities for learning and finding new passions is endless for Grace students.