Anybody notice a giant rat outside Grace? One that isn't digging through the garbage? One that's nearly 20 feet tall? The rat, otherwise known as Scabby, has been sent to our neighborhood by Local 79, a North American labor union. The rat represents the union's protest against Japanese retail company Ryohin Keikaku Co., otherwise known as Muji. While there have been a number of Scabby's around the city, this giant inflated rat has long depicted union protests. The rat which is considered repulsive symbolizes, according to labor union officials, the repulsiveness of mistreating employees. In this case, the rat is aimed at the higher-ups in Muji who have been under providing for the construction workers at their other locations.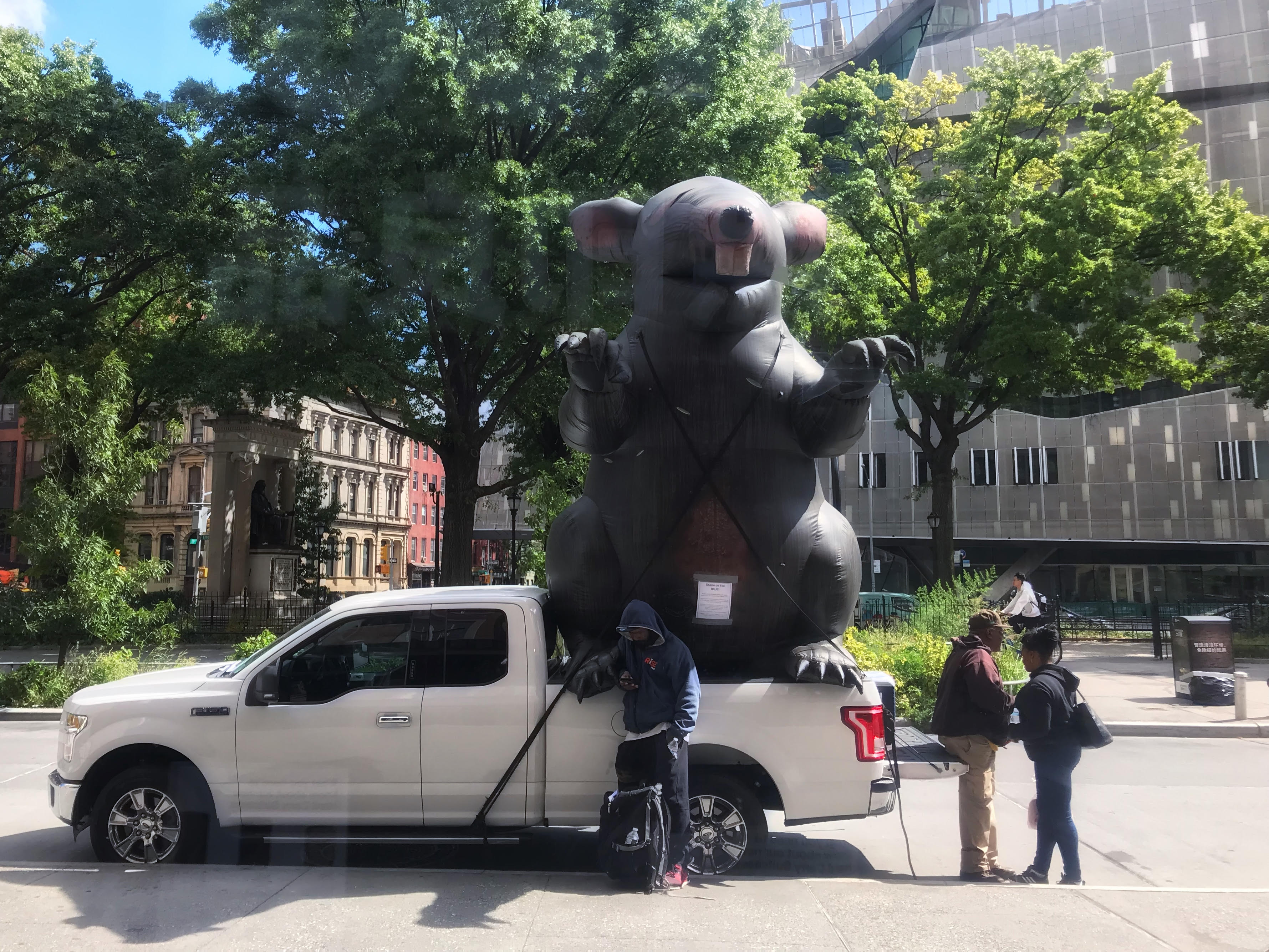 A union worker, who wishes to remain anonymous, is a Local 79 representative as well as the custodian of the rat. When asked why Local 79 was protesting Muji, especially the Muji at 52 Cooper Square, he suggested that the union organization had met with an unknown group of protestors who were "trying to convince [Muji] to be safer with workers."
As a result of being non-unionized, Muji lacks proper health benefits and wages. This type of construction arrangement has supposedly caused "40 deaths on construction sites" over the last 4-5 years, according to one of the Local 79 representatives. The representative, along with others working with Local 79, have been running this protest for over three months with the belief that, "if people get injured they can't work, and can't make money as a result." The following form has been passed out daily to all passersby trying to raise awareness about the ongoing Muji issues.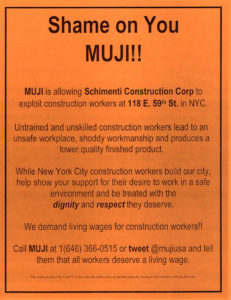 The reason the construction company, Schimenti Construction Corp., a New York-based construction firm, wants to use non-unionized workers, is because they can pay these workers less, thus ensuring both Muji and Schimenti Construction Corp.'s will turn a higher profit.
The entire Grace Church School community has developed thoughts on the protest happening right outside the school doors. Literature teacher Mr. Root iterated how he feels, "a little bad for the people who aren't in construction who are trying to have a nice shop; but staying day after day after day, well that's how you can get your point across." Along with teachers, James Prud'Homme '21 stated, "I think protesting is probably a good thing, but I don't know the exact circumstances." James' words echo the majority of Grace students and teachers who are unfamiliar with the reason for Scabby's presence outside of Muji. From the looks of it, It seems like the rat is not going anywhere, anytime soon.